Dean and Britta performs in The Current studios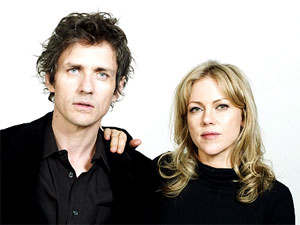 Dean Wareham and Britta Phillips are former members of Luna, the band started by Dean Wareham in 1992.
Britta joined Luna in 1999 after playing in several bands, providing the singing voice of the '80s cartoon character JEM, and starring in the movie "Satisfaction," with Julia Roberts and Steve Cropper.
In 2003 Dean and Britta released "L'Avventura," an album of covers and duets produced by Tony Visconti. This was followed by Back Numbers, again with Visconti producing, in February 2007.
Songs performed: "Knives From Bavaria," "Words You Used To Say," and "Night Nurse."
Guests
Resources