Peter Ostroushko performs in The Current studio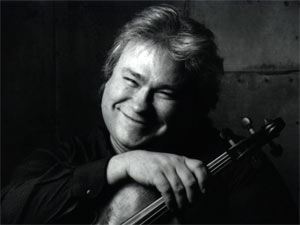 "Lordy Lucas!" That was almost the name of the Peter Ostroushko's Heartland Band, but an executive nixed it. No matter what you call it, Ostroushko's band and concerts over the past several years in the Midwest have gathered fans for the local musician.
Ostroushko has a long career in the music industry that started in high school and has included many concerts and recording sessions, including an appearance on Bob Dylan's "Blood on the Tracks" record, as well as several of his own recordings. He also was a regular on A Prairie Home Companion for several years.
Peter, along with bassist Joel Sayles and percussionist Marc Anderson stopped by the studio to play a few songs for Dale and Jim Ed.
Songs performed: "Old Grey Mare," and "Working on a Building."
Guests
Resources
Related Stories
Peter Ostroushko hides his stress for the holidays Mandolin and fiddle virtuoso Peter Ostroushko appears to be one of the most relaxed people on the planet. His thoughtful pauses are long enough to allow you to go for coffee and get back before he begins his answer. And that would be OK with him.
Postcards from Peter Ostroushko Minnesota musician Peter Ostroushko, a favorite among public radio audiences, has a new CD called "Postcards." The songs are original tunes he wrote on the road while traveling with the cast and crew of "A Prairie Home Companion."