Death Cab for Cutie performs in The Current studios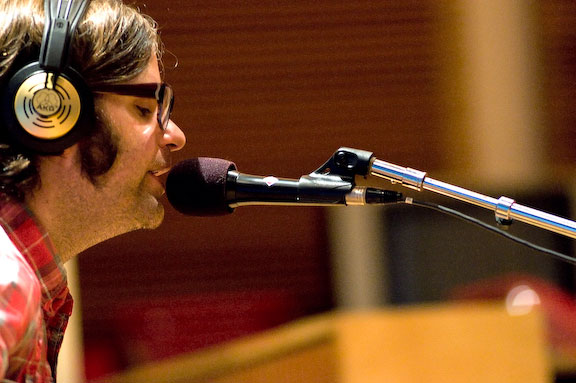 Death Cab For Cutie formed in Bellingham, Washington in 1997 as a solo project of singer/songwriter Ben Gibbard. The band has released a total of eight albums and in August, 2005 they released "Plans" which received a Grammy nomination for "Best Alternative Album" of 2005.
The band is currently on tour in support of their s latest project entitled "Narrow Stairs," which was released in May, 2008.
Songs performed: "Photo Booth," "Talking Bird," and "I Will Possess Your Heart."
Guests
Resources
6 Photos
Ben Gibbard and Nick Harmer of Death Cab for Cutie

(Minnesota Public Radio / Tylor Boland

)

Chris Walla of Death Cab for Cutie

(Minnesota Public Radio / Tylor Boland

)

Ben Gibbard of Death Cab for Cutie

(Minnesota Public Radio / Tylor Boland

)

Chris Wall of Death Cab for Cutie

(Minnesota Public Radio / Tylor Boland

)

Nick Harmer of Death Cab for Cutie

(Minnesota Public Radio / Tylor Boland

)

Ben Gibbard of Death Cab for Cutie tuning up in the Maude Moon Weyerhaeuser studio

(Minnesota Public Radio / Tylor Boland

)
View 5 more photos