Cafe Accordion Orchestra performs in The Current studio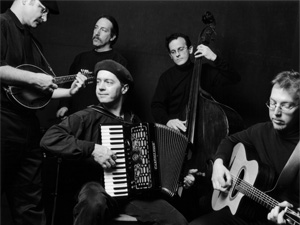 Dan Newton and the Cafe Accordion Orchestra have come out with a new recording, "Germaine." The band's previous recordings have been concept albums, but this one is more of a collection of tunes the band has enjoyed playing. French, Italian, Mexican and American music are all parts of Cafe Accordion's repertoire, but this recording takes the listener all over the world.
Songs performed: "La Femme Panthere et L'Homme Sandwich," and "Yaquicita"
Guests
Resources
Related Stories
Dan Newton performs in The Current studios Chances are, if you've heard any live music in the Twin Cities at any time you've seen Dan "Daddy Squeeze" Newton in his trademark hi-top Chuck Taylors playing the accordion. He's the founding member of several area bands including the Cafe Accordion Orchestra, the Rocking Pinecones, Jumbo Yaya and others.
Cafe Accordion Orchestra - in studio The Cafe Accordion Orchestra's new CD "Cinema", is a tribute to film music ranging from slap-accompaniment to love ballads.