Abigail Washburn & the Sparrow Quartet performs in The Current studio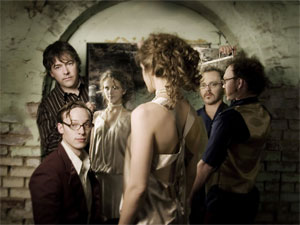 The Sparrow Quartet doesn't fit any musical molds. They could be placed into a bluegrass box just as easily as a classical box or anywhere in between.
Abigail Washburn is the founder of the quartet. She grew up in the Twin Cities area and has also performed in our studio with Uncle Earl. She didn't intend for this instrumentation - two banjos, cello and violin - for the group, but when you work with banjo virtuoso and 10-time Grammy winner Bela Fleck, cellist Ben Sollee and violin player Cassey Driessen, the music finds a way to turn heads.
Abigail Washburn and the Sparrow Quartet is touring in support of their self titled CD. They've been traveling extensively in the U.S. and in China during the 2008 Summer Olympics.
Songs performed: "A Fuller Wine," "Old Timey Dance Party," "Captain," and "Oh Me, Oh My."
Guests
Abigail Washburn
Bela Fleck
Ben Sollee
Casey Driessen
Resources
Related Stories
Uncle Earl finds an unlikely fan So what's it like to have a rock star produce your folky-bluegrass album? Ask the women of Uncle Earl. They're touring right now in support of their CD, "Waterloo, Tennessee" which was produced by John Paul Jones of Led Zeppelin.