Album Review: Morrissey - Years of Refusal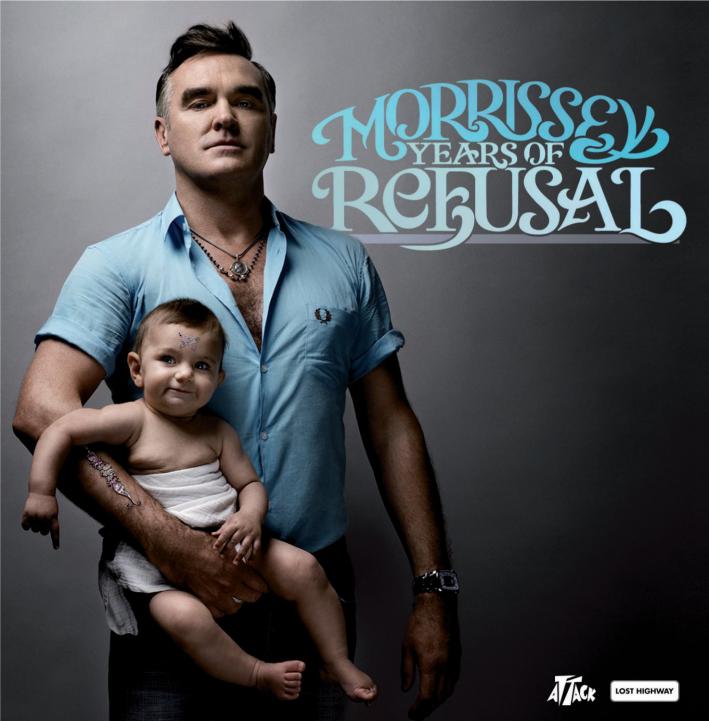 Ah, Stephen Patrick Morrissey. Love him or lump him, it's hard to believe he's been in our collective consciousness now for over 25 years. While his work in the Smiths with Johnny Marr in the '80s was almost uniformly groundbreaking and precedent setting, his solo career has been a bit spotty. Not unlike a singing version Christopher Walken, a once fiercely unique style that found itself reduced to self-parody at times during the '90s — it seems that no matter what he does to his voice, you can name that Mozz in three notes. And that's not always such a bad thing, especially when he cranks up the crank and writes from his angry place, as he does on most of Years of Refusal, his ninth solo studio album. Sonically in a league with Your Arsenal, his most rock and roll album to date, Morrissey seethes from the opener "Something Is Squeezing My Skull"'s "thank you, drop dead" to the final "Nooooooooooo!" of set closer "I'm OK By Myself."
After a late-90s draught Morrissey announced his return to form with 2004's You Are the Quarry, featuring production by the late Jerry Finn — who had worked primarily with American pop-punk bands like Green Day, Blink 182, and Sum 41. After a sidestep with legendary glam producer Tony Visconti for 2006's Ringleader of the Tormentors, Morrissey worked with Finn again for Years of Refusal, and his longstanding partners like guitarist Boz Boorer are supplemented this time out sometime Beck sideman Roger Manning, trumpeter Mark Isham (who adds a mariachi feel to several cuts), and even Jeff Beck (!), who offers a guitar solo on one track. While it's doubtful that this far into his career Morrissey is going to win over oogles of new converts, if you've been there in the past, you're probably gonna like Years of Refusal — one of Morrissey's best solo outings to date.