Sea Wolf performs live in The Current studios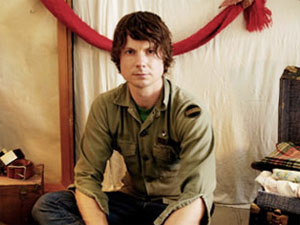 Making music under the moniker of Sea Wolf, Los Angeles singer-songwriter Alex Brown Church has been making music since his first band, Irving in 1998. Alex left Irving when he felt that his music didn't mesh with the style of Irving, so he traveled north to Seattle where he recorded with producer Phil Ek, who has worked with other bands like Fleet Foxes and Band of Horses.
Sea Wolf's debut album "Leaves in the River" was released in 2007, which included the well-received song, "You're A Wolf." The latest release "White Water, White Bloom" was released in the fall of 2009.
Songs performed: "Wicked Blood," "Turn The Dirt Over," and "Orion And Dog."
Guests
Resources
Related Stories
Sea Wolf performs in the Current studio Named after Jack London's 1904 novel, L.A.'s Sea Wolf is a moniker for singer/songwriter Alex Brown Church's dark, folk-rock project. Formerly the bassist in the pop band Irving,Church plays with a full band including cello and marxophone.