Album Review: She & Him - Volume Two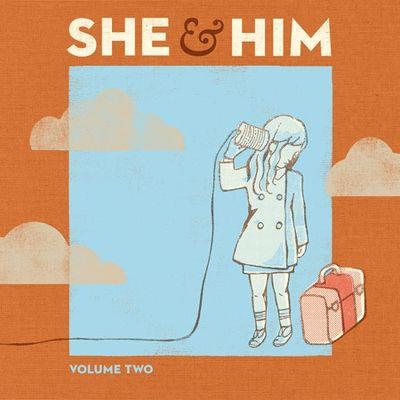 Like a lot of us, Zooey Deschanel has a "day job" (her words) and a hobby: she's been writing and recording songs since she was a kid. In 2001, she formed a cabaret act, If All the Stars Were Pretty Babies, with a fellow actress in L.A. In 2006, she met M. Ward while making the film, The Go-Getter. He knew her singing (M. Ward saw Elf, too!) and wanted to know: Did she have a record? She did not. But she had a home full of demos, which she shyly shared with Ward. He convinced her to take her hobby to the next level, and She & Him was born.
It's an auspicious match for many reasons. Gruff, husky Ward is the unlikeliest of fairy godmothers, but his arrangements make Deschanel the belle of the ball. And just as important — he blesses She & Him with an indie cred, without which poor Zooey would might not have been given a fair shake.
But with Ward as her shepherd, Zooey presents nine new original songs on Volume Two. There are also two covers: a sunny track from 70s rock band NRBQ, "Ridin' in My Car," and the coy "Gonna Get Along Without You Now," originally by 60s country/pop crossover Skeeter Davis. (Maybe the NRBQ/Davis collaboration, She Sings, They Play, is in Deschanel's record collection.)
Volume One spotlighted Deschanel's songwriting with its simplicity, but lacked cohesiveness as an album. It felt more like an experiment, and appropriately so. Volume Two is bolder and lusher, with thick arrangements and layered harmonies.
Volume Two's best moments are on tracks like "Thieves," a rolling wave that starts Sam Cook and finishes Roy Orbison, and finds Deschanel's singing at its finest: crooning, yearning, a little world-weary. Deschanel lives in constant danger of Cute Overload; consequently, it's when her voice is slightly cracked and wistful that it's most palatable. The juxtaposition of that voice with Ward's sunny, surfey melodies is pure bliss. But perky, peppy Zooey — the one that's running for student council president of your heart — misses the mark, and sometimes takes Ward down with her. On "Over it Over Again," Deschanel's voice is a squeaky toy you seriously wish your dog would devour. The ba-da-das of the breezy "Sing" make you feel like you're on hold with your bank. But the low moments are few and far between. "You and Me" is gorgeous (even if I find myself wishing Ward's pedal steel had just a little more muscle.) "In the Sun" and "Don't Look Back" strike just the right balance of sunshine and sourpuss, and "Lingering Still" is a fun, Marty Robbins-esque cha-cha.
All in all, She & Him's Volume Two is solid. It's not going to change the world, or even you. If you're looking for something epiphanic, look elsewhere. But if you want an album that feels like a Saturday with your BFFs, spent digging through the bargain bin at the record store, Matt and Zooey send their love.