Nicole Atkins performs in The Current studios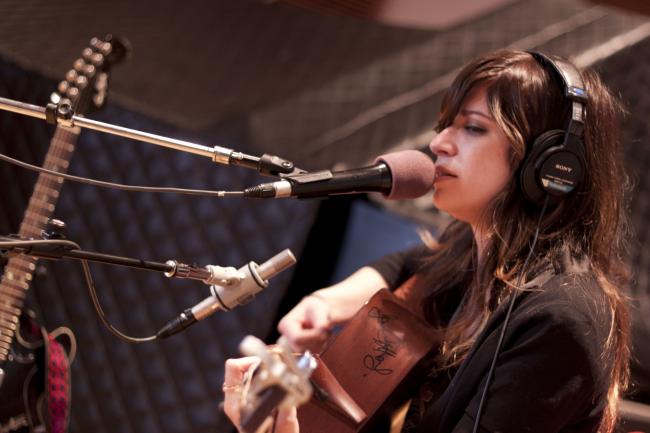 Singer-songwriter Nicole Atkins has gone through a lot of life changes in the last couple of years, and they're all laid bare on her new album, "Mondo Amore."
Like so many indie albums, "Mondo Amore" is filled with heartbreak-inspired lyrics, and Atkins indeed recorded the album during a period of emotional turmoil following the end of a long-term relationship. But other major shifts were afoot in Atkins' life and career during the recording of the album. Her longtime backing band, the Sea, disintegrated during the album's recording sessions, leaving her to assemble a new ensemble (which she calls the Black Sea) out of various Brooklyn-area musicians who helped out with the sessions. She also severed ties with her onetime record lable, Columbia, eventually releasing "Mondo Amore" on Razor & Tie after a lengthy delay.
"Mondo Amore" shifts Atkins' sound, too. Where her earlier work, like her 2007 full-length debut "Neptune City," drew upon '50s-style Brill Building pop and the darker end of country, her new one augments those influences with healthy doses of blues and psychedelia.
Nicole Atkins returned to The Current studios to play a few songs.
Guests
Related Stories
Nicole Atkins and the Sea performs live from SXSW Born and raised in Neptune City, NJ, singer-songwriter Nicole Atkins lived up and down the east coast before settling in New York to write her debut album about her hometown. Atkins was approached by friend and now band-mate Dan Chen in 2005 to start a new band, The Sea, based on the songs Atkins had on her MySpace page.
Nicole Atkins performs in The Current studios 28-year-old musician Nicole Atkins was born and raised in Neptune City, located a stones throw from fabled Asbury Park. By the age of 13, she found an old beat up guitar in the attic of her house and taught herself to play a Grateful Dead song.
5 Photos
Nicole Atkins

(MPR Photo / Brett Baldwin

)

Nicole Atkins

(MPR Photo / Nate Ryan

)

Guitarist Irina Yalkowsky

(MPR Photo / Nate Ryan

)

Bass player Jeremy Kay

(MPR Photo / Nate Ryan

)

Dan Mintzer, drummer for Nicole Atkins and The Sea

(MPR Photo / Nate Ryan

)
View 4 more photos