Album Review: Ra Ra Riot - The Orchard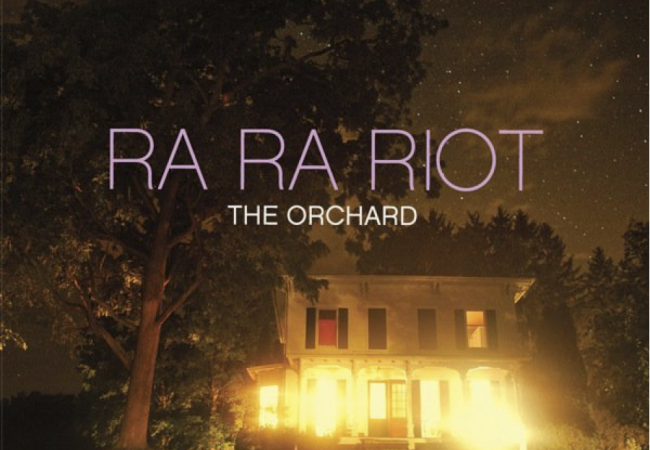 The Orchard is very apt title for the sophomore release from Ra Ra Riot, the six-piece indie band whose debut, 2008's The Rhumb Line, was a sleeper indie hit that year. Last summer, the band headed to upstate New York, where they're from, to work on new material. They recorded in a house, on a farm, surrounded by trees bearing ripe peaches. You may find that much of the material on this CD is just as sweet as that location suggests.
The record leads off with the beautifully string-laden title track, which takes us on a journey that feels melancholy one moment and buoyant the next. We've been spinning the track Boy for a while, and I fell in love with the drums and bassline of this song immediately!
Meanwhile, Frontman Wes Miles' voice is pure pop perfection on Too Dramatic. I imagine this tune is destined for many "relationship-in-peril" mixes in the near future. Similarly, Foolish just is the musical equivalent of that moment when you sit down with someone you've been involved with for some time and have "the talk."
Before we can get weighted down with heavy thoughts, however, we're treated to Massachusetts, perhaps the catchiest state-titled song since Oklahoma! It's definitely the song that I have been walking around singing as I'm out running errands (my apologies to the band). Cellist Alexandra Lawn provides the vocals for You and I Know, which is one of the moodiest songs on the record--not to say it isn't incredible; it is!
As I listened to both Shadowcasting and Do You Remember, I wondered what it was about these songs that seemed so familiar. Then it dawned on me... they remind me of "that Vampire Weekend side project." Well, of course they would, as Discovery was the side project between Rostam Batmanglij of Vampire Weekend and Ra Ra Riot's Wes! If you know Discovery, I'm sure you'll have the same experience with those tracks--they just like something I've heard and enjoyed many times before! The record concludes with strong, moody strings on Kansai and the sparse, hushed finale of the tune Keep It Quiet.
As I listened to The Orchard, I often thought of the triumphs and tragedies that Ra Ra Riot have gone through since they got together a few years ago. From losing John Ryan Pike, their original drummer, in a tragic drowning accident to selling over 50,000 copies of their debut record, this band has already experienced a handful of the extremes of the indie music world. Now, let's sit back and listen as their career comes to fruition on The Orchard.