Pink Mink performs in The Current studio
After conquering the 2010 Picked to Click Poll, playing First Avenue's Best New Band Showcase and claiming the hearts of Twin Cities music fans, Pink Mink is ready to release their debut self-titled album.
No stranger to the music scene Pink Mink's musical resumes include bands like Ouji Radio, Von Bondies, Selby Tigers, Lefty Lucy, Strut & Shock, Marijuana Death Squad and more. Dueling female vocals, winding guitars, and punk rock sensibilities have defined the Pink Mink sound.
Songs Performed "Booby Prize," "Earthquake on the Loose," and "End of the World Delight."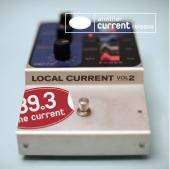 This performance is a part of Local Current Vol. 2, a compilation of local in-studios recorded at The Current in 2011.
Guests
Resources
Related Stories
2 Photos
Pink Mink

(Nate Ryan / MPR

)

Pink Mink

(Nate Ryan / MPR

)
View 1 more photos