Album Review: Neil Young - A Treasure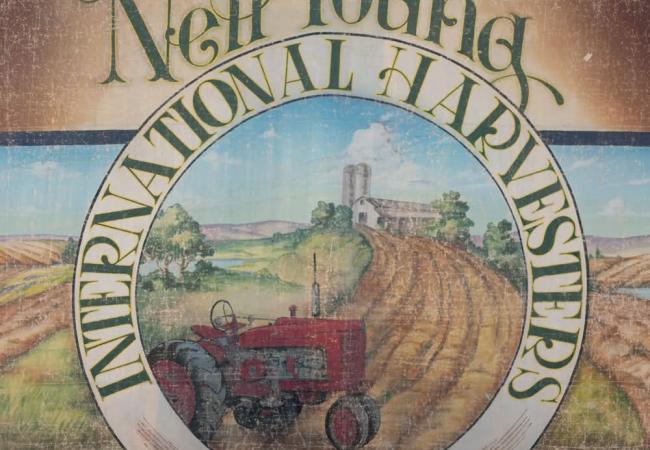 A Treasure, the new album from Neil Young, is part of his Archives series, which has been putting out (mostly) live performances from various points in Young's long career. This time, instead of material from a single show, A Treasure compiles recordings from a series of tours in the 1984 and 1985. After a series of albums took stylistic detours, Young eventually was sued by Geffen Records, for "not making Neil Young albums." Two of those diversions were among the worst-selling albums of Young's career: the proto-rockabilly of 1983's Everybody's Rockin' and 1985's Old Ways, which leaned heavily into country music.
In between these releases, Neil took the musicians who had been working on these records out with him on the road, dubbed them The International Harvesters, and from those tours A Treasure is taken. Thank goodness someone was rolling tape along the way and recorded this band, because in some ways, the playing on A Treasure is better than any in Neil Young's career. By taking some crack Nashville pros on the road with him like Rufus Thibodeaux on fiddle, Ben Keith on pedal and lapsteel, and Pig Robbins on piano, he's upped the ante considerably from the ragged glory of Crazy Horse.
Featuring a mix of previously unreleased tunes and old classics, A Treasure captures a great band and fills in a gap in Neil Young's career. It also completely nullifies anything Geffen Records could have claimed about his music being unrepresentative — it's quintessential Neil.
Here's what Neil recently had to say about that time and his trouble with Geffen Records. "They told me they wanted me to play rock 'n' roll, and told me I didn't sound like Neil Young," he said. "So I gave them Everybody's Rockin' and said, 'This is a rock 'n' roll album by Neil Young after someone tells him what to do; this is exactly what you said you wanted.' And we got way into it. I really liked it. As long as it's good music and I'm playing with my friends, I don't care what genre it is. All my music comes from all music — I'm not country, I'm not rock 'n' roll, I'm just me, and all these things are what I like."
At the time I recall thinking Neil had possibly lost his touch between the run of Old Ways, Everybody's Rockin', and the electro-tinged Trans, but maybe he was just way ahead of us — establishing the Artist as Auteur template that Beck and others would emulate in the decades since. 1985 was also before the world had heard of Uncle Tupelo or the Jayhawks, and Gram Parsons wasn't the legend he's become since. Maybe we've been listening to lots of Trampled By Turtles or other roots-y music the past few years, but this stuff doesn't even really sound all that country. You've still got Neil's Les Paul cranked to 11 on tracks like "Grey Riders," and in the context of today, having banjo, pedal steel, and mandolin grace a rock song like "Southern Pacific" feels totally natural. In fact, the previously unreleased "Grey Riders" may be the track that best merges Young's entire career sonically. A country stomper that suddenly breaks into blasts of guitar squall, only an artist as forward moving as Young would leave a song like this on the shelf for 25 years.
As often seems the case, Neil gets the last laugh. THIS is what Geffen was so afraid of? Not only is it a better album than what Young put out at the time, it's mix of rock and country with killer tunes and musicianship stands proud with the other great live albums of his career.