St. Vincent performs in The Current studios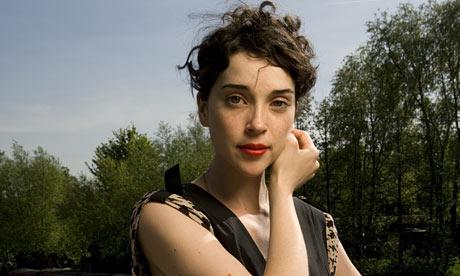 Onetime Polyphonic Spree member Annie Clark made her debut under the recording name St. Vincent four years ago with 2007's Marry Me. But it was her sophomore effort, 2009's Actor, that propelled her to critical acclaim and widespread popularity in the indie-rock community.
Now, two years later, she has returned with her third album, Strange Mercy. Released last month, the album finds St. Vincent further perfecting her dark, mesmerizing take on indie-pop and rock, with more personal songwriting and more varied, art-rock-influenced arrangements.
St. Vincent stopped by The Current for a session and interview with Bill DeVille. She played "Surgeon," "Cheerleader" and "Strange Mercy."
Guests
Resources
Related Stories
St. Vincent performs in The Current studios Annie Clark, better known as St. Vincent, paid her dues as a back-up musician throughout the indie world before emerging as a unique voice in 2007.
St. Vincent performs in the Current studio Singer/multi-instrumentalist Annie Clark said she came up with the name St. Vincent to put no limitations on what she could do. She said with a name like St. Vincent, the band could be "expandable and could include other people and really be a whole entity."
2 Photos
St. Vincent (Annie Clark)

(Image courtesy of artist

)

St. Vincent (Annie Clark)

(Image courtesy of artist

)
View 1 more photos