Album Review: Tom Waits - Bad As Me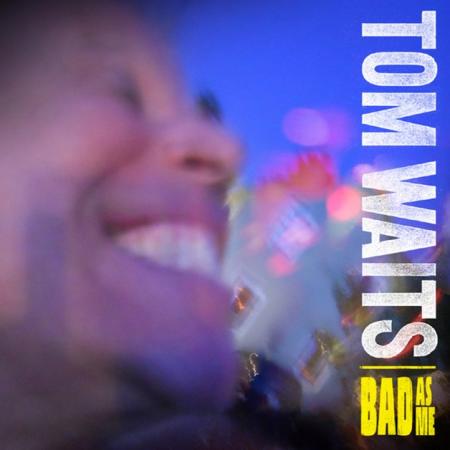 For someone who has said he doesn't spend a great deal of time in front of a computer, Tom Waits knows how to use the internet to get his message across. Remember the 2008 "press conference" for his Glitter and Doom tour?
This time around, he announced some details of his new record (along with a healthy jab at those who leak music online) via the Private Listening Party" announcement back in August.
If you were able to stream the new album via his website or attend one of the actual private listening parties at an your local record store, no doubt you're already hooked.
On his 20th studio album, Tom Waits has once again assembled an incredible collection of musicians to bring this musical vision to life, including: his oldest son, Casey; blues veteran, Charlie Musselwhite; David Hildalgo of Los Lobos; Les Claypool of Primus; Red Hot Chili Peppers bassist Flea and Keith Richards of The Rolling Stones (just to name a few).
Bad As Me begins with the driving horn and guitar-drenched tune "Chicago" and ends with a Hellish evening of "Auld Lang Syne" on "New Years Eve." We're taken on a 13 track journey featuring the most incredible vocal work of Mr. Waits' career... tender on tunes such as "Talking At The Same Time" and "Face The Highway." His growl is ever-present on "Hell Broke Luce" (which was reportedly inspired by a tour of Alcatraz where he saw the title carved into a wall) where he sings about war and it's after-effects. "Pay Me" plays like a reinterpretation of an old folk song.
As always, the consummate storyteller, can wag his finger at you in a way that makes you wonder if he's talking to YOU or another part of his own personality on the album's namesake, "Bad As Me." While "Raised Right Man" seems like a societal lament on the importance of strong lifetime relationships or marriage.
I can't help but grin as I listen to "Satisfied." The music and vocal delivery have a gospel like feel. But the fun is in the lyrics with repeated use of the word "satisfaction" and the call out to "Mr. Jagger and Mr. Richards." The song's placement in the album's track-listing is made even more grin-worthy due to the fact it is followed by a duet with Keith Richards called "Last Leaf," a melancholic look at aging and survival.
We waited for seven years to hear a new studio record of original music from Tom Waits. Bad As Me proves to be worth the wait!