Album Review: Coldplay - Mylo Xyloto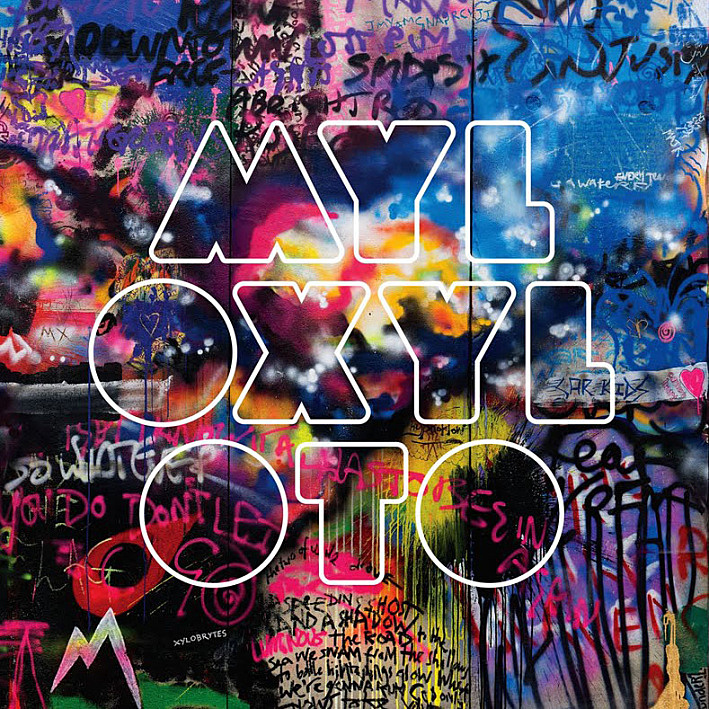 A decade ago, Coldplay arrived to the game as five-star prospects, ready to make an immediate splash in the music world. One sensed something inherently special about this band's sound, first via the swooning hit single "Yellow," then with their epic A Rush of Blood to the Head, which only aided their meteoric rise. After their shock Grammy win in 2004 ("Clocks" won Record of the Year, somehow beating out "Hey Ya!," "Lose Yourself" and "Crazy in Love") and their record-setting single "Speed of Sound," they formally graduated to the big leagues with 2005's X&Y, which established them as commercial superstars -- and frequent critical whipping boys.
The fact that there were actual debates here at The Current over how much to play X&Y and its follow-up, Viva la Vida..., is both preposterous and telling. Why wouldn't you play them?? They're arguably the most successful band with alternative roots since Radiohead -- or U2! Why would we play them? They're corporate juggernauts, tailored for Top 40 radio, banging bodies with the likes of Jay-Z and Gwyneth Paltrow! (Ahem.)
Their fifth album, Mylo Xyloto, is as quintessentially Coldplay as anyone could imagine: a mix of booming anthems designed for stadiums, as well as some low-key acoustic tracks that remind us that they started out as just four guys looking for love.
Mylo Xyloto is unabashedly huge, both in sound and sentiment. Even the liner notes are a breathless mash of color and words (the album was apparently influenced by American graffiti, [sic] whatever that means). Lead vocalist/pianist Chris Martin has built a narrative amongst music journalists that the album chronicles the progression of a relationship, which should come as no surprise to anyone who has followed the band's career; in 2005, I was fond of saying that X&Y played like a concept album about convincing your girlfriend not to break up with you.
Any supposed sweeping lyrical narrative is ancillary: the minute you hit 'play' on a Coldplay album, everyone already knows they're in for various sagas of love and romantic torment. Torment pops up in "Hurts Like Heaven," as the subject utilizes their "heart like a weapon," and Martin bemoans his own torched heart in "Up in Flames". As always, though, he sees reason for optimism in the penultimate, show-stopping "Don't Let It Break Your Heart," where the lovers vow to never part again (at least until Album 6).
Coldplay's music has always sounded universal and huge, but they take on an enormity on Mylo Xyloto that alternately thrills and leaves the listener distant. "Princess of China" is conceived as a duet with Rihanna, yet it comes off feeling empty, cold, and clinical. (It doesn't help that the liner notes freely admit that Rihanna cut her vocals somewhere completely different, cut off from the band.) Some songs experiment with turbo-charged BPMs, which ultimately come off as tiring to the ear (I only listened to the album on a stereo and in the car; I would imagine that listener fatigue is a very real concern for anyone listening on headphones).
Lower-key tracks such as "U.F.O." and "Us Against the World" also fail to make much of an impression. But there are moments where the band explodes to life, such as the so-stupid-it's-good "Every Teardrop Is a Waterfall" or the I-swear-I've-heard-that-riff-before "Charlie Brown". The highlight for me, though, is the stupendous "Paradise," with a gargantuan chorus that mirrors its protagonist's escape into the world of dreams. It immediately joins the roster of Coldplay classics, along with "Yellow," "Lost!" and 2/3 of A Rush of Blood to the Head.
When I said earlier that one "sensed something inherently special about this band's sound," I was of course referring to the way I felt when I bought A Rush of Blood to the Head in 2002 and felt like I had stumbled into unearthing the best band in the world. Every girl I dated in college had Coldplay on their stereo, computer, iPod, or KaZaA. I've rooted for and followed this band from their first days (when I thought "Yellow" was a Collective Soul song) to their spot at the head of the table of rock bands. Somewhere along the line, their albums became less an event than the moment when 45 minutes of new Coldplay music gets released to the world. Mylo Xyloto doesn't resonate with me as an album, so much it's as another installment in the band's continuing saga. We know what we're getting with Coldplay, and in that regard, doesn't disappoint.