Deer Tick performs in The Current studios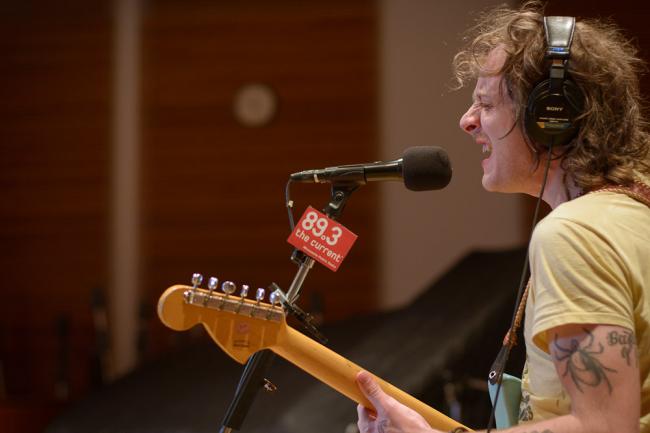 Providence, Rhode Island alt-country rockers Deer Tick depart from their signature folk sound on their latest album, Divine Providence. The louder, faster chord progressions suggest a more punk rock edge than the group's earlier recordings.
While in town for a show at First Ave, they stopped by the studio to talk about the record, their side projects and life on the road.
Songs performed: "Kiss Me On The Bus (The Replacements cover)," "She's Not Spanish" and "Walls"
Guests
Resources
8 Photos
While in town for a show at First Ave, Rhode Island alt-country rockers Deer Tick stop by The Current for an in-studio performance.

(MPR / Nate Ryan

)

While in town for a show at First Ave, Rhode Island alt-country rockers Deer Tick stop by The Current for an in-studio performance.

(MPR / Nate Ryan

)

While in town for a show at First Ave, Rhode Island alt-country rockers Deer Tick stop by The Current for an in-studio performance.

(MPR / Nate Ryan

)

While in town for a show at First Ave, Rhode Island alt-country rockers Deer Tick stop by The Current for an in-studio performance.

(MPR / Nate Ryan

)

While in town for a show at First Ave, Rhode Island alt-country rockers Deer Tick stop by The Current for an in-studio performance.

(MPR / Nate Ryan

)

While in town for a show at First Ave, Rhode Island alt-country rockers Deer Tick stop by The Current for an in-studio performance.

(MPR / Nate Ryan

)

While in town for a show at First Ave, Rhode Island alt-country rockers Deer Tick stop by The Current for an in-studio performance.

(MPR / Nate Ryan

)

While in town for a show at First Ave, Rhode Island alt-country rockers Deer Tick stop by The Current for an in-studio performance.

(MPR / Nate Ryan

)
View 7 more photos