Improbable collaborations and returning veterans: 5 new tracks you'll hear on The Current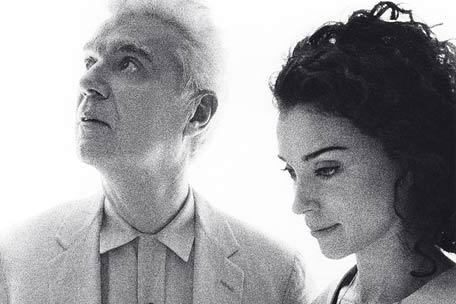 This week, 89.3 The Current has added an excellent and varied array of new tracks to the mix of music on our airwaves, and we want to give you a sneak peak of some of the great new music you'll be hearing. From improbable collaborations to returning vets, rising noise-rockers to local indie-poppers, we've got all the goods below. Enjoy the videos and streams, and be sure to keep your ears open for these songs on air!




David Byrne and St. Vincent – "Who"
In an improbable but enticing collaboration, legendary Talking Heads singer David Byrne and celebrated indie singer-songwriter St. Vincent (a.k.a. Annie Clark) are set to release Love This Giant, an album the duo have been working on since 2009, on September 10 on British indie label 4AD. They've also planned an extensive tour behind the album which kicks off on September 15 with a show at Minneapolis' State Theater. Check out the album's alluring first single, "Who."
Cat Power – "Ruin"
Lauded singer-songwriter Cat Power, née Chan Marshall, hasn't put out a full-length of original material since 2006's The Greatest (her 2008 effort Jukebox was a cover album, save for one Marshall original), so fans reacted to the announcement of her impending ninth album Sun with joy and near-disbelief. As if to prove that Sun really is on its way, Matador Records released the album's gorgeous first single "Ruin" last week.
Japandroids – "The House that Heaven Built"
The Vancouver, B.C.-based duo Japandroids have an alluringly noisy, chaotic garage-punk sound and a reputation for fierce, charged live shows. The band just released their second full-length album Celebration Rock to rave reviews (it was preceded by the band's 2009 debut Post-Nothing and the singles compilation No Singles).
The Smashing Pumpkins – "The Celestials"
The '90s alt-rock vets are back with what Billy Corgan calls "an album within an album." According to the perpetually eccentric Pumpkins frontman, Oceania is both a standalone album and another installment in the ongoing 44-track song cycle/concept album Teargarden by Kaleidyscope, songs from which the band has been slowly but surely recording and releasing since late 2009. Perhaps more importantly, some have claimed the album finds Corgan and company returning to the Smashing Pumpkins' 90s sound. Listen to single "The Celestials" and decide for yourself.



Van Stee – "We Are"
These local indie-poppers (featuring guitar work from Jake Hanson of Halloween, Alaska, 12 Rods and more) are on the bill of our Local Current Live event this Wednesday at the Cedar, and now you can hear their infectious, playfully atmospheric single "We Are" on not just the Local Current stream but 89.3 The Current as well. Enjoy!