John Fullbright performs in The Current studio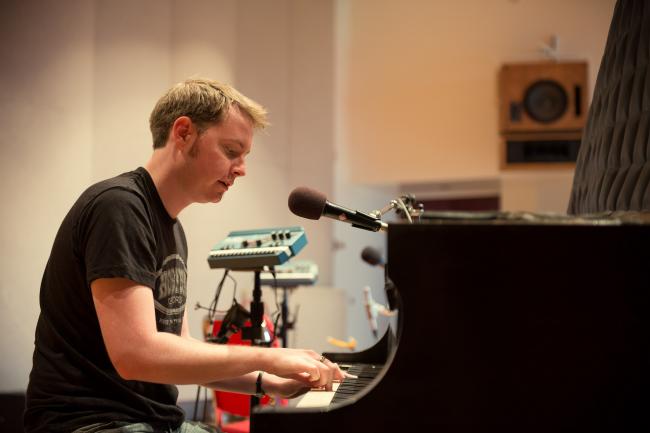 From the Ground Up: That's the title of Americana singer-songwriter John Fullbright's debut studio album, but it is also a fitting description of the path Fullbright's career has followed. The 23-year-old Oklahoman guitarist has avoided shortcuts, spending the past three years touring, recording live sets and focusing on the craft of songwriting.
While the Woody Guthrie comparisons draw themselves — the two share the hometown of Okemah, Oklahoma — Fullbright avoids pigeonholing his music as folk, or country or pop. This assimilation of genres is heard in his newer material, presenting evidence that the young musician's raw talent is still developing.
John Fullbright will be back in Minneapolis on September 29 to open for The Devil Makes Three at Cabooze. He was recently in town to open for Shawn Colvin at the Guthrie Theater and stopped by The Current studio to chat with Bill DeVille about his songwriting process ("songwriters, we have a tendency to crawl inside ourselves and write a lot of songs in the key of me"), finding his voice as a teenager playing music for tips and catfish dinners ("Townes [Van Zandt] is the reason I started writing songs") and where he finds inspiration ("Driving when the sun is going down ... most songs of mine have started in that way").
Songs performed: "Gawd Above," "Satan and St. Paul," "Nowhere To Be Found" and "Fat Man."
Guests
Resources
4 Photos
John Fullbright performs in The Current studio

(MPR / Nate Ryan

)

John Fullbright performs in The Current studio

(MPR / Nate Ryan

)

John Fullbright performs in The Current studio

(MPR / Nate Ryan

)

John Fullbright performs in The Current studio

(MPR / Nate Ryan

)
View 3 more photos