Kinetic funk-rock and playful experiments: 4 new songs you'll hear on The Current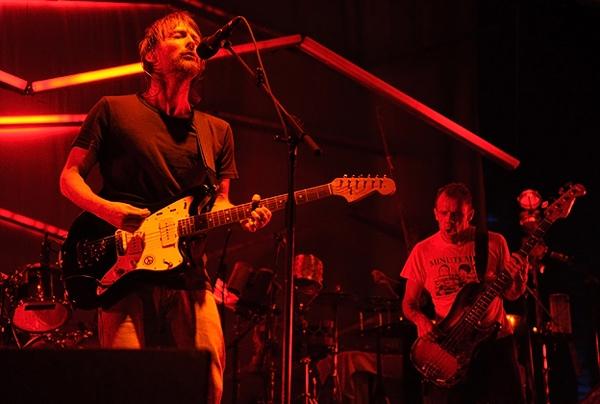 As the chilly weather begins to creep over Minnesota, the fall slate of new releases keeps rolling in. Here's a selection of the new stuff we've added to our mix on The Current this week, including an early taste of the exciting new supergroup Atoms for Peace, plus new music from Gary Clark Jr., Animal Collective and Atlas Genius.
Atoms For Peace – "Default"
From Radiohead frontman Thom Yorke's other band comes this new single, which heralds an as-yet-untitled album tentatively due out early next year. The quintet features not just Yorke but an all-star cast of instrumentalists including longtime Radiohead producer Nigel Godrich, Flea of the Red Hot Chili Peppers, former Walt Mink member (and Beck and R.E.M. collaborator) Joey Waronker, and Brazilian percussionist Mauro Refosco, a longtime member of David Byrne's touring band. The dark electronic groove and cryptic lyricism certainly won't put off Radiohead fans, but the band's dynamic interplay of percussion, bass and synths hints at the new possibilities this project may have in store for Yorke.
Gary Clark Jr. – "Ain't Messin 'Round"
Hard rockin' Austin-based blues revivalist Gary Clark Jr. is out with a new album Blak and Blu next month, and first single "Ain't Messin 'Round" is a sweaty, horn-powered funk-rock workout with an infectious falsetto hook that takes Clark's sound to kinetic new places.
Animal Collective – "Today's Supernatural"
For better or worse, almost no band in the last decade has so perfectly straddled the fringe of accessibility and experimentation within the indie sphere — and become so successful doing it — as Animal Collective. Their ninth studio album Centipede Hz, released earlier this month, follows 2009's Merriweather Post Pavillion, almost universally hailed as their finest moment. On Centpiede Hz, rather than attempt another thematically complete forward leap a la Merriweather, the band opts for a flawed but intriguing flurry of experimentation and innovation, throwing new ideas around to see what sticks. The frenetic "Today's Supernatural" is one result of this playful process.
Atlas Genius – "Trojans"
Australian indie band Atlas Genius signed to Warner Brothers last winter on the strength of their debut single "Trojans," which charted modestly in the US and in their homeland. They released their debut EP Through the Glass in June, and are currently touring the US in support of it and building buzz around their melodic rock style. "Trojans" remains their catchiest track to date, and now you can hear it on The Current airwaves.