Album Review: Mumford & Sons - Babel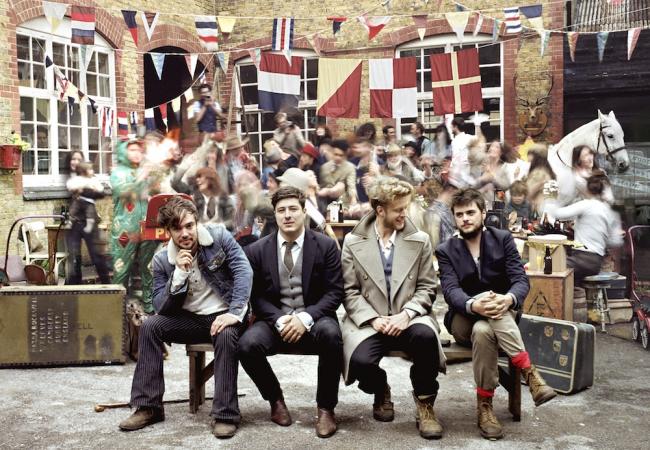 Imagine being the band at the corner pub and suddenly becoming one of the biggest rock bands on the planet — all while playing folk music with banjos, thick harmonies and emotions worn snug on the sleeves of your old-timey linen shirts.
For Mumford & Sons, that's the story of the past five years. Emerging from the West London folk scene with other favorites of The Current — such as Laura Marling and Johnny Flynn — Mumford & Sons is one of the least likely mass success stories in rock history. No one predicting culture in 2009 would have expected banjos to be the next big thing on Top 40 radio, but since Mumford's breakout debut, Sigh No More, we've seen artists like The Lumineers and Of Monsters and Men also reach the mainstream (and hundreds more hit the dustbins).
It can't be overstated how big this band has become: No rock artist has sold more copies of an album in the past three years except Adele — not Coldplay or The Black Keys (not even rappers like Drake or Jay-Z). Apparently a well-written, passionately-delivered song that resonates is still more important than a production technique, TV advert or flashy video. While Skrillex and other dubstep stars might be wise to start counting down and cashing in on their fifteen fame-filled minutes, a song like "The Cave" will elicit powerful emotions for years.
After you play hundreds of shows and conquer audiences the world over, what's your second act?
Do you marry an actress? Marcus Mumford did — Carey Mulligan.
Do you start a label and use your fame to help your friends? Ben Lovett did — Communion Records, home to the Mercury Prize-nominated artist, Michael Kiwanuka, as well as Ben Howard.
Do you overhaul your sound or try to improve on what brought the world to your door? In the case of Mumford & Sons' new album, Babel, you don't fix what isn't broken.
On this album, the band worked again with producer Markus Dravs (Arcade Fire, Bjork, Coldplay, Brian Eno, James). The worldwide touring behind Sigh No More informs songs that approach the epic scope of the Arcade Fire while remaining striking in their intimacy. With the feel and groove of a live band clicking on all cylinders, Babel explodes out of the gate in a rush, with tracks like the first single "I Will Wait" and "Lover of the Light" that bounce from Marcus Mumford's near whisper-in-your-ear to the full-throated roar of an army storming the castle. The emotional lyrics, lush harmonies and earnest vocals are still there, but are now built for the larger stages on which Mumford and Sons will play.
Midway through, the album turns inward, with a solo Marcus Mumford delivering "Reminder" in a style reminiscent of early Van Morrison, before re-building the sound with the ambitious "Hopeless Wanderer," where the banjo and acoustic strums start to approach Trampled by Turtles' speed and intensity. The most epic track is "Below My Feet," which feels like the Arcade Fire singing an Irish folk song, complete with buzzy electric guitar riffs. Like Bono or Chris Martin in the pop generations before him, Marcus Mumford is unashamed in his embrace of big emotions, big sounds and direct lyrics that get straight to the heart of any matter. It's a record that will likely thrill fans — and justify naysayers.
Ultimately, after taking over the musical world and shifting the sound of pop culture, it's impossible to truly be back in the corner pub, anonymously and furiously writing songs you hope will be noticed by an over-caffeinated and distracted populace. Artists can only make a radical first impression once — whether it's Jack White or Kanye West — and everything after that is reflected against what you've done before and the persona your fans have created of you. Managing the expectations of millions of fans can produce weird consequences (from Rod Stewart to Nirvana), and one of the bravest moves on Babel is that Mumford and Sons seem to have shut that out, making the record they wanted to make — bigger and bolder than Sigh No More, but not really changing the basic blueprint.
Your experience with Babel will probably depend on where you're at with Mumford & Sons circa late 2012. Are you psyched for the new album, or burned out on the ubiquity they've realized during the past few years? As pretty much the first radio station in America to play the band (airing "White Blank Page" from a UK EP in the summer of 2009 — six months before Sigh's release), The Current (and Minneapolis) will always retain a soft spot for the band that exploded onto the national scene at the same time we did. But that feeling may be colored by the fact that we heard them before everyone else, and met them on the ascent — like catching R.E.M. in '85 or U2 before Red Rocks. Those bands went on to bigger successes but have ardent followers who claim they were never as good. What happens to Mumford & Sons' career is unwritten, but for the second chapter of their story they've filled the white blank page with songs of hope and glory, heartache and redemption, played with the verve and passion (and yes, banjos) that few million-selling pop acts would dare — unabashed, vulnerably naked and alive.