Album Review: P.O.S. - We Don't Even Live Here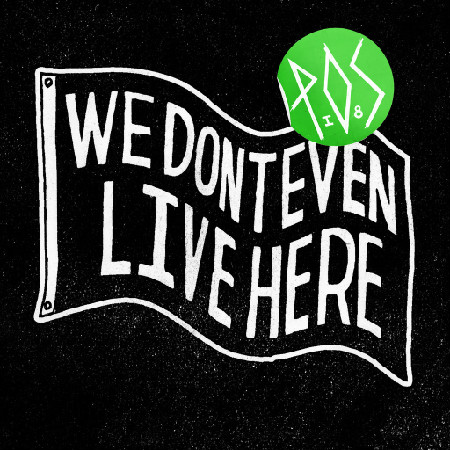 Contribute today and get We Don't Even Live Here by P.O.S. as a thank you gift.
"I wanted to make an anarchist dance party," Stef Alexander told me recently — and boy, has he succeeded. On We Don't Even Live Here, Alexander, known to fans as P.O.S., funnels his punk-bred aggression into an electronic maelstrom that sounds like experimental noise collective Marijuana Deathsquads crashed a Get Cryphy dance night.
Which isn't an entirely improbable scenario, actually. Alexander has ties to both Ryan Olson's amorphous, drum-heavy Deathsquads and the Get Cryphy DJ crew, and says that working with both pools of musicians has opened him up to new possibilities. "I knew that I wanted to make a record that wasn't super guitar-based this time," he says. "Playing with Deathsquads so much, I wanted to make something that reflects how much better I've gotten at using my synth gear. And ultimately, I wanted to dance. Plain Ole Bill became my DJ for [the tour supporting his last album] Never Better, and I had never danced ever in my life. Now I dance all the time."
But before we get to the dancing, there is a collection of songs that gradually introduces the listener to P.O.S.'s new sound. "Bumper" is the most Deathsquads-sounding of the bunch, kicking the album off with an insistent, pulsing bass drum beat, while tracks like "F*** Your Stuff," "They Can't Come" and "Lockpicks, Knives, Bricks and Bats" are reminiscent of his work with Doomtree — thanks in part to production handiwork by Doomtree crew member Lazerbeak and guest vocals from Sims.
There are also a few honest-to-god curveballs. "How We Land" includes a hyper-AutoTuned verse by Justin Vernon that stretches the album into Top 40 T-Pain territory, if only for a fleeting moment. It also boasts guest vocals from Justin Pierre of Motion City Soundtrack and rapper Astronautalis, a testament to Alexander's approach of inviting musicians from every corner of the Minnesota music scene into the studio to help him flesh out the tracks on his album.
Alexander says that collaborating with Justin Vernon and Ryan Olson in the Gayngs recording project left a deep imprint on his creative process. "Since making that Gayngs record, I feel like I've gotten closer to a whole different side of the music community that I wasn't really tight with before."
As the album progresses, P.O.S. continues snowballing those special guests and disparate influences into a bigger, louder and faster sound, teasing the listener with an undulating, laserlike breakdown in "Lockpicks" before kicking the door of the dance club open on "Get Down" — a fan favorite and the fiercest live song he's performed to date. "Get Down" agitates the ear in all the right ways, demanding movement and active participation in its infectious beats, as does the jittery, helium-huffing "All Of It" and the Little Rascals-invoking crew anthem "We Don't Even Live Here." All of which dovetails serendipitously with the record's lyrical content, which details P.O.S.'s political views (or apolitical; see the opening line about this being an anarchist dance party) more candidly than ever before.
With news of P.O.S.'s medical problems rippling through his fanbase this week (he was forced to cancel his fall tour as his ongoing struggle with kidney disease has led him to begin dialysis and seek a donor for a transplant), the musical achievement of this album feels even more monumental. We Don't Even Live Here is P.O.S.'s boldest release to date, and it's set to make an impact on the national scene with or without a tour to support it.
For more on P.O.S.'s new album, lyrics and political content, see the in-depth piece I wrote recently about his ideology and how it compares and contrasts with new work from Brother Ali.
Resources
Related Stories