Red Hot Chili Peppers: 5 Funky Facts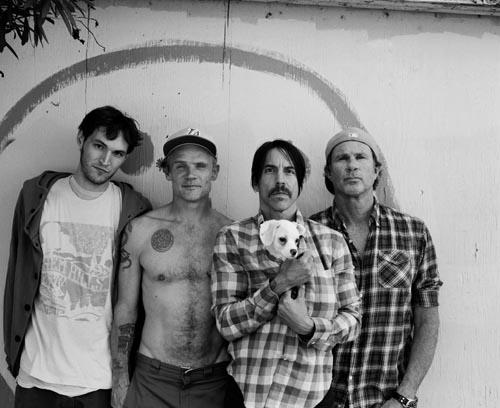 Red Hot Chili Peppers are well-known for their eccentric and flamboyant personalities on stage. While their antics are well-documented among concert goers and super fans, the casual listener may be somewhat mystified by this legendary group, who've been together for nearly 30 years.
#5 Nirvana's Nevermind and Blood Sugar Sex Magik came out the same day
Michael "Flea" Balzary recalls: "I remember being so excited because I felt like we had made our great record. I would put on the radio and keep listening to hear "Give It Away," but I kept hearing this Nirvana song and was like, "God, that's a great f*cking song. But are they going to play 'Give It Away'?" And then they turned out to be the greatest band in the world."
From Spin's article on artists remembering Nirvana's Nevermind 20 years later.
#4 As bosses, Flea and Anthony Kiedis are worse than Donald Trump
Over the Red Hot Chili Peppers 29 year tenure, Anthony Kiedis and Flea have been the only consistent members. Reading the band's history is similar to a season recap of Donald Trump's reality show The Apprentice, with no fewer than 5 termination notices.
Guitarist Jack Sherman (1984): fired due to creative differences with Kiedis, allowing for original guitarist HIlel Slovak to return.
Drummer Cliff Martinez (1984-1986): fired, due to no longer having his heart in the band, but refusing to quit.
Guitarist DeWayne "Blackbyrd" McKnight (1988): The former P-Funk guitarist was booted for lack of chemistry. Supposedly so agitated by this, he threatened to burn down Kiedis' house.
Drummer D.H. Peligro (1988): Dismissed due to drug/alcohol abuse. After firing Peligro -- a friend of the band -- Flea supposedly stayed in bed for several days after the firing.
Guitarist Arik Marshall (1992) After John Frusciante quit, Marshall quickly filled the role of lead guitarist. He fulfilled the remaining tour dates and had a couple of appearances (Grammys, Simpsons) but was fired due to scheduling conflicts when it came time to start working on the follow-up record.
Guitarist Jesse Tobias (1993): Following in Marshall's footsteps, Tobias lasted about a year, before the lack of chemistry forced Flea and Kiedis to fire him.
Guitarist Dave Navarro (1994-1998) Frequently cited as a mutual departure, Navarro's continued stylistic differences, and drug use at the time suggest that there may have been more one-sided.
#3 There is a "Bridge" that "Under the Bridge" was based on
The smash single "Under the Bridge" from Blood Sugar Sex Magik works as a metaphor -- Kiedis' character was figuratively under the bridge -- but the bridge exists too -- Kiedis was literally under the bridge! An article from vulture.com uses clues from Kiedis' memoir and lyrics from the song to pinpoint the exact location as a pedestrian bridge in MacArthur park. (Of course, several commenters dispute this, and Kiedis refuses to tell anyone the precise location, the gentleman from Vulture presents a compelling argument.
#2 Flea is an ardent supporter of music education and fan of classical music
Flea founded the Silverlake Music Conservatory in Los Angeles in 2001. Their mission is to facilitate basic music education among the youth of Los Angeles. His recent (50th) birthday party was a benefit in support of the music education center, that he calls "the best thing in his life," according to Rolling Stone.
Earlier that day, Balzary also divulged in a post on Twitter, that he enjoyed baroque violinist Rachel Podger "[destroying] some Bach partitas."
#1 Blood Sugar Sex Magik was recorded in Harry Houdini's old haunted mansion
Detailed in the documentary Funky Monks, legendary producer Rick Rubin had Red Hot Chili Peppers record Blood Sugar Sex Magik in "The Mansion," a purportedly haunted house once occupied by Harry Houdini. Anthony Kiedis, Flea and John Frusciante stayed in the house while recording, saying that they felt the spirits were friendly; drummer Chad Smith found it too creepy, and came in each day by motorcycle.
Because the recording process went so smoothly, Rubin decided to record many more albums there, including The Mars Volta's De-Loused in the Comatorium and LCD Soundsystem's This is Happening.
Funky Monks
1 Photo
A guitar signed by four members of the Red Hot Chili Peppers.

(Courtesy Red Hot Chili Peppers

)