Album Review: Solid Gold - Eat Your Young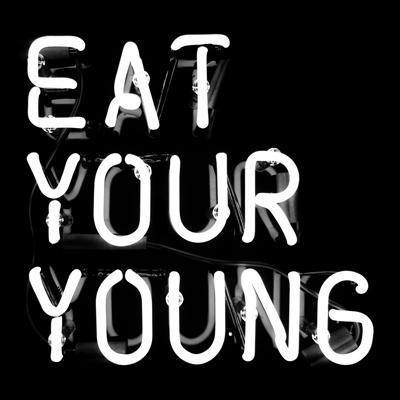 Contribute today and get Eat Your Young by Solid Gold as a thank you gift.
I was introduced to Solid Gold's music through airplay at The Current back in 2008 and loved their debut Bodies of Water instantly. Over the last 4 years, I have  seen this band play in or around the Twin Cities more than 25 times, which makes them the band whose live shows I have seen the most. They seemed to be playing a show in town at least once a month, for the better part of two years. And then, gradually there were fewer shows to attend, until we, as fans, were left wondering where Solid Gold had gone.  Over the last couple of years, we've heard rumblings about "working on new material" and "heading into the studio soon."
Even the Synchronize EP wasn't enough to satiate those of us that were longing for new material and more live shows. Listeners called the station asking if the band had broken up, as band members were seen on stage with other bands or helming DJ gigs solo or in pairs. And with the unveiling of GAYNGS (which features two of Solid Gold's members, Zack Coulter and Adam Hurlburt) and their subsequent recording and touring, there was even less noise from the Solid Gold camp. Until now.
The announcement of Eat Your Young came less than a month before the record hits shelves, proving our hometown boys have heard our pleas and wanted to get the record into our hands as quickly as they could. The Solid Gold of today is the same core trio (Zack Coulter, Matt Locher and Adam Hurlburt) that recorded and released Bodies of Water back in 2008, but with a new and larger pool of life experiences to draw from to create their art.  And with Drew Christopherson taking on the percussion for the recording, the beats are even bigger for Eat Your Young.
My one-sentence review of Eat Your Young is "the soundtrack to an astral projection over a syncopated beat."  But Eat Your Young is more complex than that. Eat Your Young is art.  Art is subjective and personal to the artists involved. Eat Your Young is also the headphone record of the year! Throw on the headphones and let the atmospheric waves wash over you. It may be the best way to get an accurate feel for the complexity within. The little nuances and gentle effects — the layers upon layers of harmonies and lush instrumentation — are brushstrokes that can only be fully realized when you're enveloped in the album's sound.
Not to say this isn't a good CD for your car, but here's one little note about that: the first time I played the CD in my car, I pulled over about 2.5 minutes into "Shock Notice" (the very first song on the CD) thinking that something was wrong with my electrical system. Turns out it's this rad little electric pulse sound that would make Nikola Tesla second guess it's origin!
Eat Your Young begins with delicate strings and raw vocals and ends in a burning, screaming crescendo that feels like a near death experience. Within the album's ten tracks, you'll hear the best work of Solid Gold's career thus far, steeped in atmospheric syncopation, harmonies, dancefloor burners and moodiness.
I personally, can't wait to see these songs performed live!
My personal faves thus far:
Track 2 – "Six Days"
Track 3 – "Pendelum"
Track 4 – "Nice Flight"
Track 7 – "Eat Your Young"
Track 10 – "In The Hollows"
 
Resources
Related Stories
Solid Gold performs in The Current studios Solid Gold's music has been described as an exploration into "unique instrumentation and composition, pairing circuit-bent organs with classical violin and opera singing, juxtaposing banjo with harsh electronic beats."
Solid Gold performs in The Current studios Before the release of their debut full length, Solid Gold had already built a strong fanbase in the Twin Cities and Europe. After a breakneck touring schedule, the band received much deserved attention following the release of their latest album "Bodies of Water."
Minneapolis' Solid Gold poised to take band to the next level Following the release of its latest cd, "Bodies of Water," Minneapolis buzz band Solid Gold has spent the year mesmerizing critics and fans with its electronic pop. The band will cap off a breakthrough year tonight with a show at First Avenue.