Dan Deacon performs in The Current studios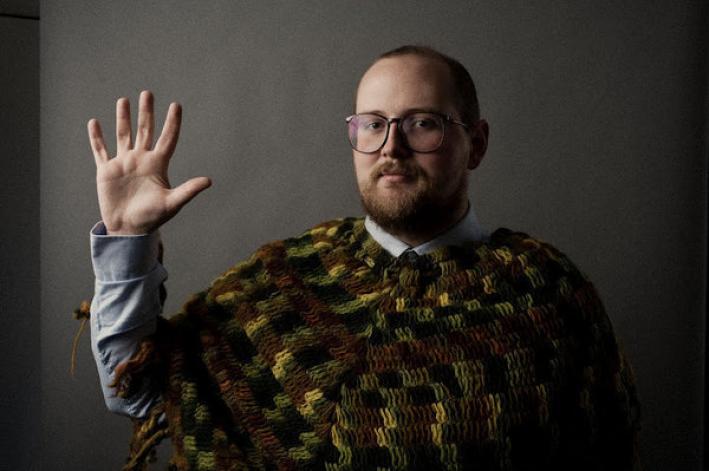 If you've ever seen a live Dan Deacon show, you know just how much creative power he has over his audience. As soon as the first note drops, the floor becomes mayhem, turning into a ritualistic affair. Deacon's music invokes a wide variety of emotions, but first and foremost his music elicits uninhibited joy. His process and love for audience participation translates from stage to record, and even with his recent performance for The Current, it's difficult for your body not to pulsate with the rhythm.
Deacon is newly signed to Domino Records, and America is his first release for the label. As the title suggests, it is much about his identity as an American within the vast landscape we inhabit. As he says in a foreword on his website, "America is a word with an infinite range of connotations, both positive and negative. Even its literal definition is open to discussion." America is more an orchestration than several songs with distinct beginnings and ends. The album is a journey from east to west and everything inbetween.
Songs performed: "Guilford Avenue Bridge," "Crash Jam" and "True Thrush"
Guests
Resources
Related Stories
Dan Deacon, Live In Concert: SXSW 2012 Few high-profile musicians could disappear into the SXSW crowd as seamlessly as Dan Deacon, who doesn't exactly cut a lithe, otherworldly, Mick Jagger-esque figure offstage. But everything about his set at Stubb's on Wednesday night was a raving, raging bundle of surprises: Deacon puts on some of the most rivetingly unpredictable, oddly interactive concerts in the business, whether he's teaching the crowd how to move in choreographed unison -- witness the dance contest that precedes "Konono Ripoff No. 1" -- or issuing a long spoken riff that somehow invokes both "Avatar" and the mom from the movie "Big."
Dan Deacon performs live in the Current studio Dan Deacon has been getting a lot of attention lately. The Baltimore City paper has named him Best Solo Performer for the past two years. Pitchfork gave the new album, Spiderman Of The Rings, an 8.7 and named the album the Best New Music of May.