The Current's 8th Birthday Party!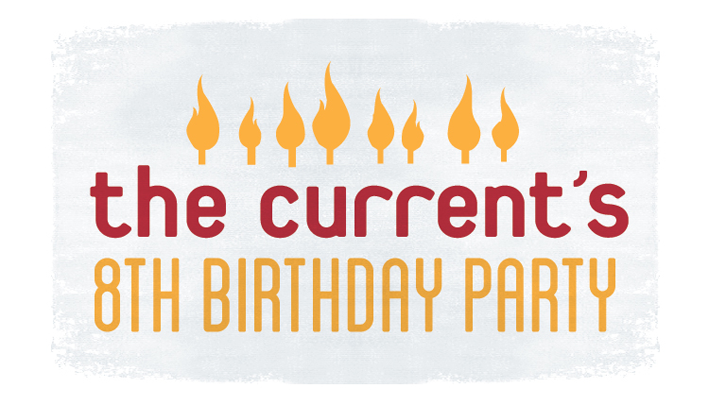 This January marks eight years since The Current first went on-air, and we're celebrating with two nights of great local music at the First Ave mainroom!
Join us on Friday, January 18th and Saturday, January 19th for our eighth birthday party, with each night featuring a different line-up of four great local bands.
Join the conversation
Saturday, Jan. 19, 2013
Tickets are sold out.
Approximate Set Times
The Chalice: 8:00 p.m.
Now, Now: 9:00 p.m.
Dave Pirner: 10:00 p.m.
Cloud Cult: 11:00 p.m.
#CurrentBirthday


Debut: Cloud Cult - "1 x 1 x 1"

Friday, Jan. 18, 2013
Full recap on Local Current blog
#CurrentBirthday
Approximate Set Times
John Mark Nelson: 8:00 p.m.
Chastity Brown: 9:00 p.m.
Twin Cities Funk and Soul All-Stars: 10:00 p.m.
The 4onthefloor: 11:00 p.m.
26 Photos
David Campbell interviews folks at The Current Birthday Party

(MPR Photo / Nate Ryan

)

John Mark Nelson and his band light up First Ave for The Current Birthday Party.

(MPR / Nate Ryan

)

John Mark Nelson's bassist onstage at The Current Birthday.

(MPR / Nate Ryan

)

Chastity Brown performs at The Current's 8th Birthday Party.

(MPR / Nate Ryan

)

Chastity Brown's keyboardist, deVon Gray, celebrated his own birthday at The Current's Birthday Party!

(MPR / Nate Ryan

)

Chastity Brown brought her blend of folk, rock and soul to The Current's 8th Birthday Party.

(MPR / Nate Ryan

)

The Twin Cities Funk & Soul All-Stars brought down the house at First Ave.

(MPR / Nate Ryan

)

Minnesota native & third-place winner on "The Voice" Nicholas David dropped by to sing a few songs with the Twin Cities Funk & Soul all-stars.

(MPR / Nate Ryan

)

4onthefloor's Chris Holm on stage at The Current's 8th Birthday Party.

(MPR / Nate Ryan

)

4onthefloor frontman Gabe Douglas brought his bluesy wail to First Ave.

(MPR / Nate Ryan

)

Cancer-stricken teen musician Zach Sobiech joined 4onthefloor on-stage for a special guest performance.

(MPR / Nate Ryan

)

4onthefloor closed out the night with a Semisonic cover, continuing the tradition of covering local classics at The Current's Birthday Party.

(MPR / Nate Ryan

)

The Chalice

(MPR Photo / Nate Ryan

)

The Chalice

(MPR Photo / Nate Ryan

)

The Kids perform Hot Cheetos and Takis

(MPR Photo / Nate Ryan

)

Performing Hot Cheetos and Takis

(MPR Photo / Nate Ryan

)

Cacie Dalager of Now, Now

(MPR Photo / Nate Ryan

)

Bradley Hale of Now, Now

(MPR Photo / Nate Ryan

)

Cacie Dalager of Now, Now

(MPR Photo / Nate Ryan

)

Now, Now

(MPR Photo / Nate Ryan

)

Cacie Dalager of Now, Now

(MPR Photo / Nate Ryan

)

Dave Pirner of Soul Asylum

(MPR Photo / Nate Ryan

)

Dave Pirner

(MPR Photo / Nate Ryan

)

Dave Pirner

(MPR Photo / Nate Ryan

)

Craig Minowa of Cloud Cult

(MPR Photo / Nate Ryan

)

Cloud Cult and other bands from The Current's 8th Birthday party perform "Closing Time" by Semisonic.

(MPR Photo / Nate Ryan

)
View 25 more photos