Weekend Arts Roundup: Art sleds, play premiere, choir concert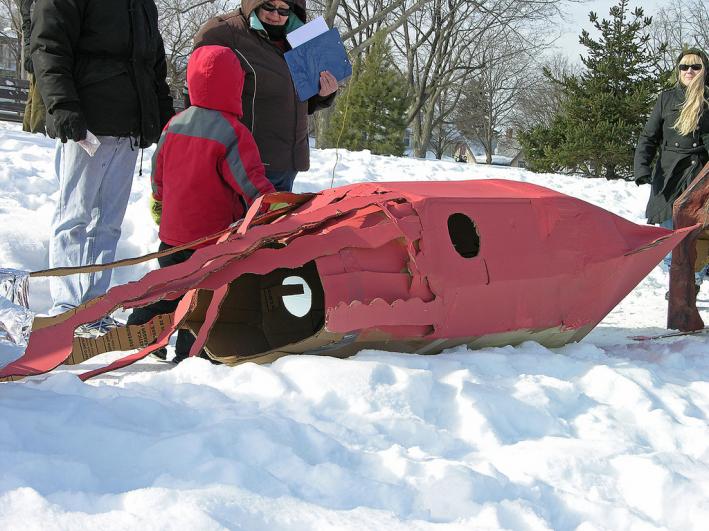 This week, MPR News Arts Editor Marianne Combs talks to The Current's Steve Seel and Jill Riley about an art sled rally, a world premiere of a play and a choir's silver anniversary.
Powderhorn Park Art Sled Rally: Saturday at 2 p.m. is the sixth annual Art Sled Rally in Powderhorn Park in Minneapolis. As Marianne describes it, these sleds are "more art than functional downhill vehicles." Art Sled Rally officials maintain that the Art Sled Rally is never postponed due to weather conditions, and in fact, weather may even inform the outcome of the rally.
World premiere of new play, "The Tiger Among Us": Mu Performance Company present the world premiere of Lauren Yee's new play, "The Tiger Among Us" at Mixed Blood Theatre in Minneapolis. The play explores the cultural disconnect experienced by a Hmong family living in rural Minnesota as they work to blend family traditions with modern life. "The Tiger Among Us" opens with a preview performance on Thursday, Jan. 24, and runs to Sunday, Feb. 10.
We Are One Voice: Celebrating 25 Years: One of North America's largest LGBT choirs, One Voice Mixed Chorus, celebrates its 25th anniversary with two concerts on Saturday, Jan. 26, at the Cowles Center for Dance and the Performing Arts in Minneapolis. Guests Kairos Dance join One Voice Mixed Chorus in this celebration of music and social awareness.
Plus, hear a deconstruction of a new band's name and debut album title. And don't miss Marianne's preview of a new Art Heroes story -- featuring Maria Genné of Kairos Dance -- that will air next Monday on All Things Considered on MPR News.
Marianne Combs joins The Current's Morning Show for the Weekend Arts Roundup every Thursday at 8:30 a.m. Read about all the latest arts news at the State of the Arts blog at mprnews.org.
Related Stories
Regional Spotlight: One Voice Mixed Chorus One Voice Mixed Chorus celebrates its 25th anniversary with performances this weekend. Steve Staruch spoke with Artistic Director, Jane Ramseyer Miller who brought in several performances for this week's Regional Spotlight.
---
comments powered by

Disqus