The Current's Public Music Meeting: Recap and Results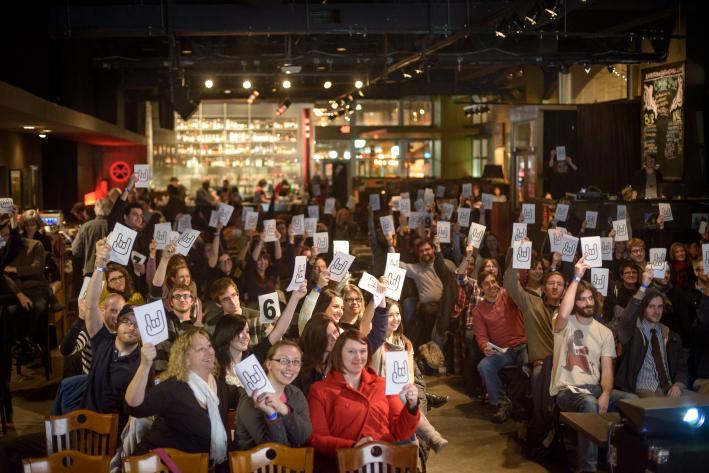 We held our first public music meeting at the Amsterdam Bar and Hall on Tuesday night as part of a grand experiment: what would happen if listeners could sound off on music that the programming team was considering adding to The Current's playlist?
The result is what we hoped: a lively discussion on 15 songs from brand new bands and veterans. Without giving away the artist and song, the audience got to listen to a clip of the track in question, rate it using some handy number placards and then get on the microphone to express their approval or dismay.
It was a good night to connect with fans of the station and give us insight into what works and doesn't work after a basic, first-time listen.
Many people had questions about how we program our music, and on February 21 from 11:30 a.m. to 1:30 p.m., you'll have your chance to ask Program Director Jim McGuinn anything during our next installment of "Meet The PD." Details on that event are forthcoming.
You may be wondering what the results are. The top five songs are listed below, based on our scientific analysis of the crowd's scores. "Rock On" signs basically counted as twice the value.
Check out photos and Twitter highlights from the music meeting and leave your comments on how you think the night went.
Top 5 Highest Audience-Rated Songs
1. Leagues — "Spotlight"
2. Iron & Wine — "Grace For Saints and Ramblers"
3. The Lone Bellow — "You Never Need Nobody"
4. Cheatahs — "The Swan"
5. Jessie Ware — "Wildest Moments"
At #CurrentMusicMtg @thecurrent & heard new #Dido ; #IronandWine ; #Mudhoney +more! Def checking out @leaguesmusic now.

— John C (@johnacarlson) February 6, 2013
True story. "@barbabney: .@dessadarling and @doomtree just got shout-outs for being good, literate rap at #CurrentMusicMTG"

— emily powell (@emipow) February 6, 2013
@thecurrent Loved the Cheatas song "The Swan!" Just found that they are opening for wavves in march! Great music meeting!! #currentmusicmtg

— Eliot Larson (@elarson25) February 6, 2013
Some dude just yelled Fugazi #currentmusicmtg

— Cooper Lund (@cooperlund) February 6, 2013
Should we do this again? And the answer was a resounding Devil Horns! #CurrentMusicMTG

— Barb Abney (@BarbAbney) February 6, 2013
"You can share your one, this is a safe place." - @jillriley at #currentmusicmtg

— Julia Schrenkler (@juliaschrenkler) February 6, 2013
Holy crap that was Mudhoney?! What? #currentmusicmtg

— Julia Schrenkler (@juliaschrenkler) February 6, 2013
"LOOCH WE GOTTA 10 BACK HERE!" - @barbabney #currentmusicmtg #causedmaryluciatoproposemarriage

— TheCurrent (@TheCurrent) February 6, 2013
The Dido is confusing everyone #currentmusicmtg

— jade tittle (@jadeisthename) February 6, 2013
talking about the lumineers, no doubt RT @thecurrent: Ouch! "I give it a high 'meh'" #currentmusicmtg

— Linc 182 (@scullness) February 6, 2013
Everyone agrees the new Wavves reminds them of Warped Tour. Some like it for that, some hate it for that. #currentmusicmtg

— Andrea Swensson (@LocalCurrent) February 6, 2013
Current listener, negging on new Flaming Lips: "Anyone can write a clap-along song." Looch: "Are you a depressed person?" #currentmusicmtg

— Andrea Swensson (@LocalCurrent) February 6, 2013
6 Photos
Music Director David Safar explains what the night is all about.

(MPR / Nate Ryan

)

An audience member at The Current's public music meeting shares her thoughts on one of the songs.

(MPR / Nate Ryan

)

The audience gives a mixed reaction to a song.

(MPR / Nate Ryan

)

One of our more vocal participants stirs the pot with her reaction to a song.

(MPR / Nate Ryan

)

Jill Riley turns the microphone over to an audience member during The Current's first public music meeting.

(MPR / Nate Ryan

)

An audience member shares his thoughts about one of the songs played during The Current's public music meeting.

(MPR / Nate Ryan

)
View 5 more photos
---
comments powered by

Disqus