Album Review: Atoms for Peace - AMOK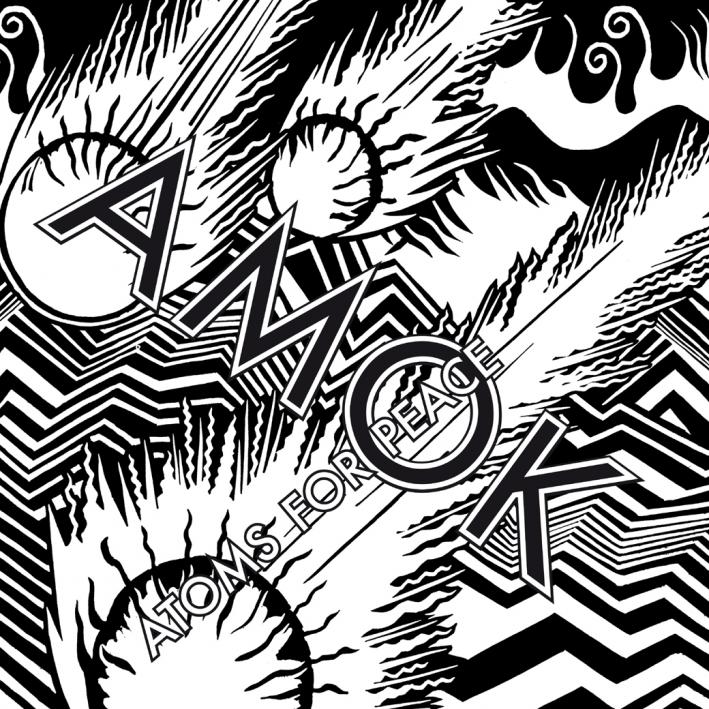 Contribute today and get AMOK by Atoms for Peace as a thank-you gift.
AMOK (pronounced "amuck") is a truly unusual album. At first listen, it's slightly off-putting, blending noticeable Radiohead aesthetics and a perpetual agitation that may make you say, "I don't know what to think of this." It seems that most people really don't have any clue either. A majority of advance press for Atoms For Peace's AMOK is generally confused: Is this a Thom Yorke project? Why does everything on the album sound the same? Is it live or electronic?
I think there's an answer for each of those three points. Let's start from the beginning: Atoms For Peace should indeed be considered an extension of Thom Yorke's solo catalogue. After all, the other members of Atoms For Peace — Nigel Godrich, Mauro Refosco, Joey Waronker and Flea — were all assembled by Yorke to play his album, The Eraser, live for two weeks in 2010. Out of those performances came ideas for new material, and they simply came up with a new name to identify the collaboration. "Atoms For Peace" shares a song title from The Eraser and more importantly, the 1953 nuclear propaganda speech by Dwight D. Eisenhower which was based on the Cold War strategy of containment.
"Containment" is a key word in describing AMOK. This album doesn't stray far from the course over the span of its 45 minutes. It feels completely locked down and almost impossible to decipher. There is an overarching loneliness that flickers in and out, and just when things are looking up, it's back to the dark abyss.
AMOK was recorded in three days, the product of an intense jam session in a Los Angeles studio. Stuck together with a complex mission (re-interpreting Yorke's electronic compositions with all live instruments), the resulting music sounds like a 9-part symphony with no room for applause. Closed in and solitary, these definitely aren't compositions meant to stand alone — not even the first single "Default" or "Judge Jury and Executioner" can break through the haze.
It's an uncomfortable record. An inaugural spin may not leave the best impression, but don't dismiss it. The more upbeat song "Dropped" is a piece which feels like it's ready to unravel at any moment, but instead, just gradually fades into "Unless." Both tracks feature gorgeous percussion, and, without a doubt, serve as the two-part anchor to AMOK. (Which is fitting, because the tracks appear midway through the album and introduce the challenging song "Stuck Together Pieces.") It feels wholly different from the first half, and things get slowed down and quieter before "Judge Jury and Executioner" really flips AMOK on its side.
The transition is so subtle that your head might interpret these nine songs as more uniform than they really are, which is why Atoms For Peace's debut is a masterful experiment in the human psyche. The emotions that permeate this collection of songs are simultaneously static and dynamic. Even if you aren't a fan of AMOK, accolades are in order to a band whose first outing has truly pushed the boundaries of subtlety.
Resources
Related Stories