Encountering Nine Inch Nails for the first time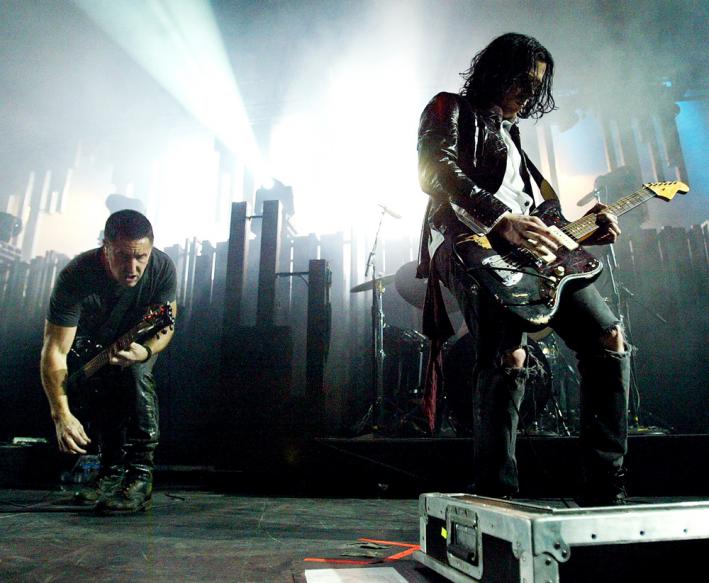 Earlier today, Trent Reznor announced an upcoming Nine Inch Nails tour via Pitchfork. While we're VERY excited about the announcement, we did have a little bit of a head's up: about a month ago, Adrian Belew mentioned an upcoming "big secret" while be interviewed at The Namm Show that had many a NIN fan awaiting the inevitable announcement:
I wish I could say I've been hip to NIN since the moment Pretty Hate Machine was released, but I missed that boat by over two years. I didn't even catch NIN on their '91 Lollapalooza run. My best friend played Pretty Hate Machine one night while I was visiting him in the city. I couldn't get enough! Back then, there wasn't a search engine that would offer up a complete discography or collection of the band's videos. In those days, you went to a record store and you bought whatever you could find. So I did. I bought Pretty Hate Machine and the Sin single... and from there, my addiction grew. I have tried to collect as many of the Halo single and B-sides as I can get my hands on. They are some of my prized possessions.
Each new release brought with it a new anthem of angst. Starting with Pretty's side one/track one "Head Like A Hole" to "Discipline" on 2008's The Slip.
I've seen the band at least a dozen times over the years, including 3 stops on The Fragile tour. (Opening night in Cleveland, then Indy ... and finally, Columbus). I've enjoyed watching Trent's backing band change to include people from Ohio I had respected for years, including Adrian Belew (The Bears, King Crimson) and Jerome Dillon (formerly of the Columbus band Howlin' Maggie).
While we wait for actual DATES on this upcoming tour, we can go through some of my favorite tracks from the NIN catalog:
1) "Something I Can Never Have" from Pretty Hate Machine
2) All the Love in the World from With Teeth
3) Wish - Broken
4) Dead Souls (Joy Division cover) - The Crow soundtrack
5) Mr. Self Destruct - Downward Spiral
And if you're still hungry for more, you can check out Welcome Oblivion, the forthcoming How to Destroy All Angels release (the project Trent started with his wife, Meriqueen Maandig).
How did you first encounter Nine Inch Nails? What are your favorites?
---
comments powered by

Disqus