Miles Davis' brilliant, pioneering fusion era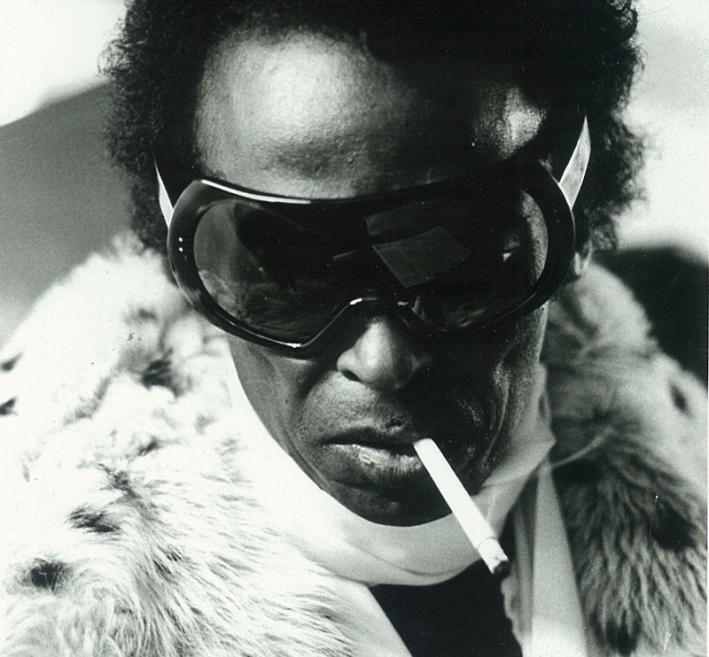 February is Black History Month, and the Current is celebrating by looking at the life and careers of some iconic musicians. So far this month we've highlighted the contributions of Otis Redding, Jimi Hendrix, and Aretha Franklin, and this week we conclude the month with Miles Davis.
Miles Davis' Kind of Blue is an album that's virtually synonymous with jazz, widely heralded as one of the greatest records the genre has ever produced, if not the greatest. But the album's creator never sat still for long, and the man's entire five-decade body of work is a towering achievement that not only defined the progression of jazz but also influenced rock, funk, soul and more. Steve Seel noted in his biography of Davis earlier this week that "many critics consider such records as the monumental double-album Bitches Brew to be just as significant in altering the course of music as Davis' earlier work." In addition to being a standalone masterpiece in its own right, Bitches Brew is in fact the pivot point between two of the most fascinating periods of Davis' career: his late-'60s swerve into jazz fusion and the truly out-there territory explored by his early '70s output.
The first phase of Miles' fusion transformation involves the development of his second great quintet. Miles' second great quintet, like many of the ensembles he worked with over the year, contained a number of performers who would go on to become jazz stars in their own right, like pianist Herbie Hancock and saxophonist Wayne Shorter. Live and in the studio, the quintet slowly jettisoned traditional chord-based jazz improvisation for a modal approach, and on albums like 1968's Filles de Killamanjaro, the band plugged in, incorporating electric bass, guitar and keys into their sound. Davis then largely took over composing duties, and he welcomed other musicians into the sessions for 1969's masterful In a Silent Way. The ground was set for the focus on innovation that would define the next six years of his career.
On Bitches Brew, recorded in 1969 and released in April 1970, Miles' electric style blossomed into a startlingly vivid new sound that crosshatched modal improvisation with the forefront of rock's own experimentation, finding affinity with the ferocious psych-rock of Jimi Hendrix and the kaleidoscopic rock/pop/funk stew forged by Sly & the Family Stone. Iconic fusion epics like "Miles Runs the Voodoo Down" are even more remarkable given that their free-flowing grooves were not played all at once but pieced together by Miles' brilliant longtime producer Teo Macero from hours of recorded jams.
While Bitches Brew serves as the culmination of Miles' late-'60s fusion experiments, it also launched his music into entirely new places. As the trumpeter and bandleader entered the '70s, his music began to push far beyond the boundaries of jazz. On an astonishing string of albums between 1970 and 1974, the rock-infused textures and rhythms of Bitches Brew warp into new, expansive shapes, yielding an intense psychedelic funk that's unlike nearly anything else ever recorded (the experimentation that German acts like Can and Faust were doing around the same time comes close).
1970's A Tribute to Jack Johnson is a kinetic funk-rock workout, containing two nearly-half hour tracks stitched together from extensive improvisations. Midway through the second of these, "Yesternow," free-jazz guitarist Sonny Sharrock unleashes some blistering riffs and solos that connect the dots between Bitches Brew, hard rock and the fringes of jazz improvisation. 1972's On the Corner is even further gone, bursting with head-spinning syncopation and jagged, loose soloing.
1974's Get Up With It is perhaps Davis' strangest studio effort. One of its tracks, "He Loved Him Madly," is a smoldering 32-minute organ dirge (and tribute to the then-just-deceased Duke Ellington) that Brian Eno credits with inspiring his pioneering ambient albums. Another tune, the atonal and furiously percussive "Rated X," seems to somehow prefigure several strains of electronica and avant-garde noise music.
Davis' live albums from this era are equally brilliant. The not-entirely-live Live-Evil documents a late 1970 show and a studio session from earlier that year. It's one of the definitive documents of post-Bitches Brew Miles Davis, beautifully recorded and reconstituted from longer performances by Macero. The mournful vignette "Little Church" demonstrates that Miles' quieter moments in this era were just as exquisite as his fiercest jams.
By the time Davis recorded a trilogy of live double-LPs in 1974 and 1975, his shows had become famously deep and dark affairs, with the trumpeter turning his back to the audience as his band kicked up a storm of wicked guitar-powered funk. These albums—Pangaea, Agharta and Dark Magus—would be some of the last music Davis would record and release for quite some time.
In 1975, struggling with drug addiction, depression and other health problems, Davis stopped playing music completely and retreated from the public eye. He wouldn't touch his trumpet again for six years. The genre-shattering music that he made in the 1960s and 70s—that may have even led him to his self-imposed exile—would not be fully appreciated until after his 1991 death, when CD reissues prompted a re-appraisal of his post-Bitches Brew work.