Natalie of Wild Belle talks made-up instruments, old-school reggae, favorite singers and more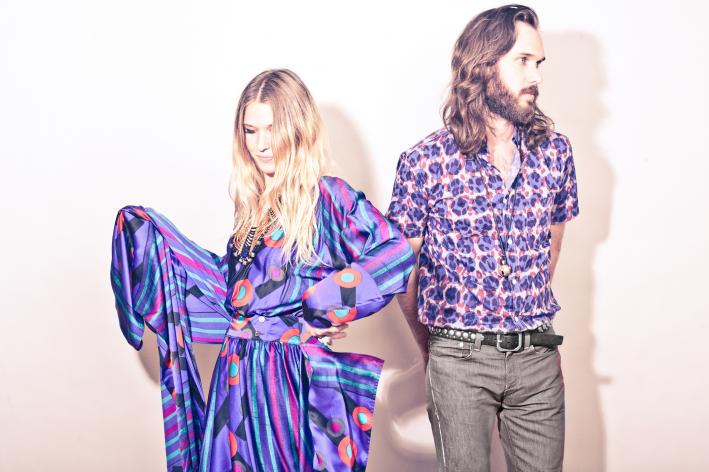 Brother-and-sister duo Wild Belle fuse rhythms and textures from across the globe with smart pop songwriting and enchanting melodies to create a uniquely alluring sound. Earlier this week, The Current offered an exclusive stream of their debut album Isles, and now we've had the opportunity to talk to the band's singer Natalie Bergman about everything from her influences to her brother Elliot's handmade instruments.
How does your relationship as siblings play into your creative dynamic and songwriting process?
We come from the same place, the same womb. We lived under the same roof growing up, shared our records, traveled together, played music together. It's inevitable our styles might be similar. In the studio, it's almost like we can finish each other's sentences. We have absorbed this universe with separate eyes and ears, but if I no longer had my eyes, or my ears, I know that Elliot could be both of those things for me.
Your video for "Keep You" is one of the stranger and more distinctive music videos released in recent memory. Tell us more about that: how did the concept for the video arise and what was the process of making it like?
We wanted to work with Melina Matsoukas. She is a stellar director. One of the best. Major risk taker, absolutely driven and passionate about all that she is working on. It was inspiring to spend a few days in Kingston with Melina and the entire crew that worked on the video. She came up with this sort of literal concept of "little man." Jabari, who played the little man, was so fun. What a guy. It was like making a short film to a song that I wrote. Lots of fun.
You have a very distinctive and lovely voice and a knack for beautiful melodies. Who are some of your influences as a singer, and what is your songwriting process like?
I love James Brown, Lou Reed, Etta James. Really love Highlife music. Rocksteady, Tropicalia. Each song is written differently, I guess. Sometimes I'll begin with a drum loop, maybe I'll start with a poem, or maybe the melody comes first, followed by the words.
Your sound draws a lot of influence from the rocksteady era of Jamaican music, which predates the slower sound that most people associate with reggae. Can you tell us a bit about how you got interested in that style of music, and what some of your favorite songs or artists from that era are?
Man, I have so many favorite artists from Jamaica. Alton Ellis, Delroy Wilson, Della Humphrey, Jennifer Lara, of course Bob Marley (his early stuff, the complete Lee "Scratch" Perry sessions). Check out the song "Send Me That Love," or "Hammer" or "Chances Are." They're all amazing tunes. It's like doo wop music, very influenced by the R&B movement at the time, which has a big influence on the way I write my music. I got interested in rocksteady because it's good music. What's not to like?
Wild Belle has quite a unique sound, and I know that some of it comes from Elliot's interest in homemade instruments. How did he start making his own instruments, and how does that process relate to your overall creative process as a band?
Elliot has always been making things with his hands. Whether it's paintings, sound sculptures, kalimbas, bells, collages. He's a genius in that way. He really has a gift for creating. When he was in middle school he was making these amazing clay beads. I know everybody was getting into beads at the time, the kind that you stick in the oven to harden—but not like the beads Elliot made. His beads always had beautiful patterns and colors and seemed a little beyond the average 12-year-old imagination.
Your album sports an electronic-influenced sound, including some very dub-tinged production. How do you recreate that live?
We use the same instruments—sometimes we'll run Elliot's Kalimbas through a filter that allows it to sound like bells, or chimes, or even steel drums.
Resources
Related Stories
First Listen: Wild Belle - 'Isles' Stream the debut full-length from the brother and sister duo who borrow heavily from electronic and reggae influences to make an ethereal, upbeat and thoroughly modern record.