Precocious Irish folk-rockers Little Green Cars perform in The Current studio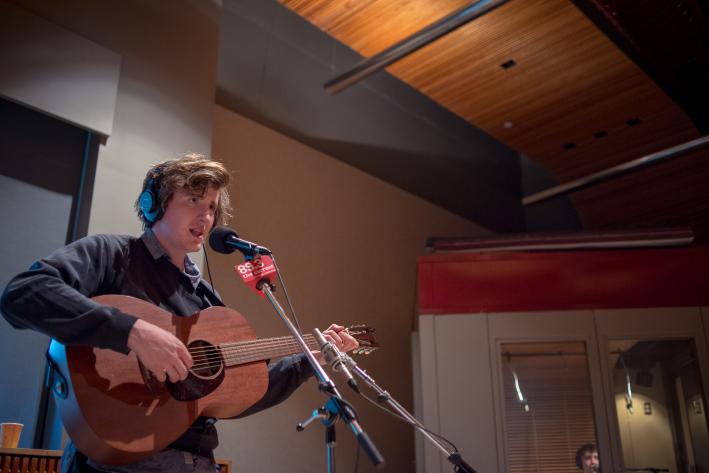 Irish folk quintet Little Green Cars are certainly newcomers to the music scene, with all of the band's members being just 20 years old. However, they've been playing together for five years and have just released a full-length, Absolute Zero, produced by seasoned indie producer Markus Dravs (who's worked with Mumford & Sons, Coldplay and Arcade Fire). Moreover, the yearning harmonies and darkly allusive lyrics of singles like "Harper Lee" suggest that Little Green Cars possess a precocious wisdom that will serve them well as the attention and hype around their debut continues to build.
In town for a sold-out show at the 7th Street Entry (with esteemed local singer-songwriter and Current fave John Mark Nelson opening), the group swung through the Current studio to chat with Mary Lucia and play a session live on the air.
Songs played: "Harper Lee," "The Consequences of Not Sleeping" and "My Love Took Me to the River to Silence Me"
Guests
Resources
7 Photos
Little Green Cars perform in The Current studio.

(MPR / Nate Ryan

)

Faye O'Rourke of Little Green Cars.

(MPR / Nate Ryan

)

Bassist Donagh Seaver O'Leary of Little Green Cars.

(MPR / Nate Ryan

)

Drummer Dylan Lynch of Little Green Cars.

(MPR / Nate Ryan

)

Little Green Cars perform in The Current studio.

(MPR / Nate Ryan

)

Stevie Appleby of Little Green Cars.

(MPR / Nate Ryan

)

Bassist Donagh Seaver O'Leary of Little Green Cars.

(MPR / Nate Ryan

)
View 6 more photos