The Best of the in-studios: DeVotchka, Rufus Wainwright and Sharon Van Etten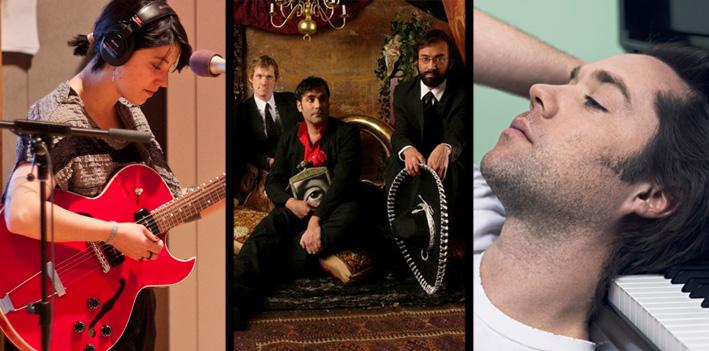 April is Public Radio Music Month, and what is more "public radio music" than the in-studio session? Stations across the nation put hours and hours of work into bringing up-and-coming artists and high-profile bands into their studios, often capturing some of the most poignant... or raucous performance out there.

So to celebrate Public Radio Music Month, we're having a daily vote for the best in-studio tracks from The Current's performance archive. We've gone through and picked some of the most beloved performances by the staff and by our audience. We'll play the winner during the Live Current track of the day the following day.

Now, let the games begin! Today's vote: DeVotchka, Rufus Wainwright and Sharon Van Etten.

"); } function create_359c923e52c4_external_field() { } function enable_359c923e52c4_ajax_form() { $("#fbSubmitButton").click(function() { $.ajax({ type: "POST", url: "/www_publicradio/applications/formbuilder/user/form_display.php?form_code=359c923e52c4", data: $("#form_display_359c923e52c4").serialize(), complete: function (transport) { //turn off the ajax loader $("#indicator_359c923e52c4").hide(); }, beforeSend: function () { $("#indicator_359c923e52c4").show(); }, success: function(html) { $("#resp_359c923e52c4").html(html); $("#indicator_359c923e52c4").hide(); create_359c923e52c4_external_field(); enable_359c923e52c4_ajax_form(); } }); return false; }); } create_359c923e52c4_external_field(); enable_359c923e52c4_ajax_form();
Related Stories
Sharon Van Etten performs live in The Current studios Brooklyn-based singer-songwriter Sharon Van Etten admits that she's still trying to find her voice, which she says is dependent upon what she's listening to -- anything from folk to hardcore. She plays April 6 at the Cedar Cultural Center.
Devotchka perform in studio Blending elements of spaghetti westerns, gypsy, mariachi, and folk has lead the group to stand out amongst the recent crop of new bands. The group joined Mark Wheat to talk about their influences and perform a few songs.
Rufus Wainwright performs in The Current studios Longtime fans waiting for a return-to-form can finally breathe a sigh of relief: Rufus Wainwright is back in the game.
1 Photo
Public Radio Music Month

(PRMM

)