The best of the in-studios: M.I.A., Lana Del Rey and St. Vincent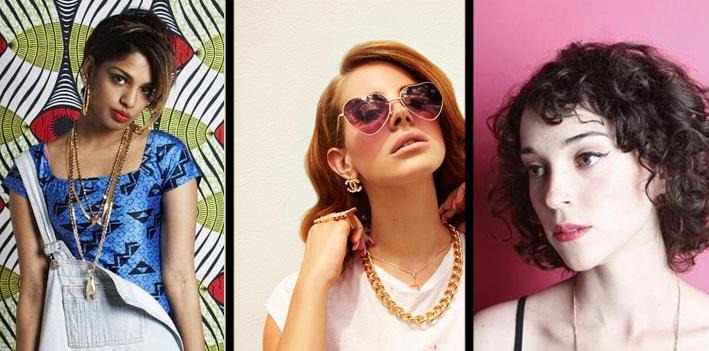 April is Public Radio Music Month, and what is more "public radio music" than the in-studio session? Stations across the nation put hours and hours of work into bringing up-and-coming artists and high-profile bands into their studios, often capturing some of the most poignant... or raucous performances out there.

So to celebrate Public Radio Music Month, we're having a daily vote for the best in-studio tracks from The Current's performance archive. We've gone through and picked some of the most beloved performances by the staff and by our audience. We'll play the winner during the Live Current track of the day the following day.

Now, let the games begin! Today's vote: M.I.A., Lana Del Rey and St. Vincent.

"); } function create_f2df68417b9d_external_field() { } function enable_f2df68417b9d_ajax_form() { $("#fbSubmitButton").click(function() { $.ajax({ type: "POST", url: "/www_publicradio/applications/formbuilder/user/form_display.php?form_code=f2df68417b9d", data: $("#form_display_f2df68417b9d").serialize(), complete: function (transport) { //turn off the ajax loader $("#indicator_f2df68417b9d").hide(); }, beforeSend: function () { $("#indicator_f2df68417b9d").show(); }, success: function(html) { $("#resp_f2df68417b9d").html(html); $("#indicator_f2df68417b9d").hide(); create_f2df68417b9d_external_field(); enable_f2df68417b9d_ajax_form(); } }); return false; }); } create_f2df68417b9d_external_field(); enable_f2df68417b9d_ajax_form();
Related Stories
M.I.A. performs in studio Maya Arulpragasam stopped by the Current studios to chat with Mark Wheat and perform her politically-inclined songs that blend elements of baile funk, dancehall, grime, and hip-hop.
Lana Del Rey performs in The Current studio Lizzy Grant's Lana Del Rey persona may be new to the broader world, but she's been singing for years and even released an album prior to 2012's already controversial "Born To Die." With her quick rise-to-fame came stringent criticism, throngs of battling publications looking for their next angle, and a warring music community.
St. Vincent performs in The Current studios Onetime Polyphonic Spree member Annie Clark made her debut under the recording name St. Vincent four years ago with 2007's "Marry Me." But it was her sophomore effort, 2009's "Actor," that propelled her to critical acclaim and widespread popularity in the indie-rock community. Now, two years later, she has returned with her third album, "Strange Mercy."