Jim James of My Morning Jacket on inspiration, recording advice and crazy dreams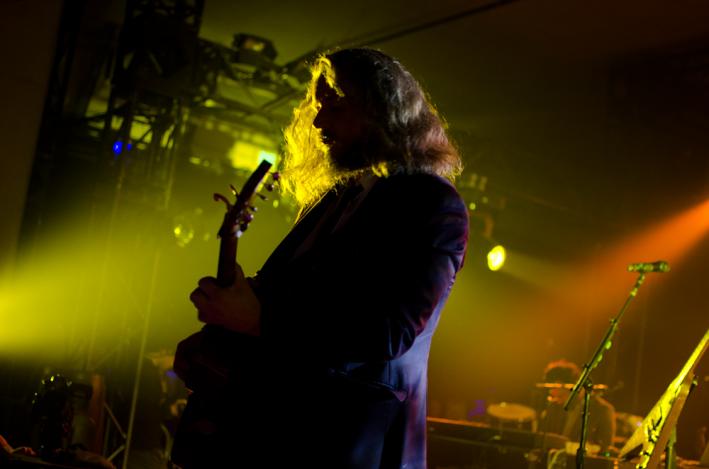 My Morning Jacket's frontman Jim James has been enjoying great success with his solo debut record Regions of Light and Sound of God; and he took a minute from the road to speak with Jill Riley before his show on Sunday, April 21, 2013 at First Avenue.
Interview Highlights
On making demos
Something I've always loved was recording in a very solitary way, a very meditative practice that i like to do, and so i've always done that. Around the time we made Evil Urges, we were working with a producer named Joe Chiccarelli, and he gave me a great piece of advice, he told me not to make any more demos. Because sometimes you put too much emotion and magic into a demo, and that can be hard to get back when you're trying to make the real record and that really struck me as great advice. I have been fortunate enough to acquire some gear that I really love recording with, so I started with this mission of not making any more demos and just recording right off the bat. Again I was fortunate enough to have quite a few songs pop into my head and for whatever reason, these songs wanted to be songs that I just worked on by myself and started building.
The Inspiration of Regions of Light and Sound of God
The initial inspiration came from reading this book called Gods' Man, a wordless graphic novel by Lynd Ward came out in 1929. I was given this book as a gift and just had this crazy deja vu experience when I saw it, and I started dreaming with my friend about trying to make the book into a film, so i just started scoring the book, and the book really really touched me so deeply, and all this music started pouring out of me. So i started scoring it, and gradually as I worked on it, lyrics came too just as I thought about life and my own experiences. It's all in stark black and white woodcuts, it's a very cinematic experience.
On working with Questlove for the Jimmy Fallon performance of "A New Life"
That was an incredible thing, I gotta give Questlove credit for that. It was funny, because we were trying to have this back forth email dialogue, and he can be a very hard guy to get ahold of because he's so busy. I was trying to find out what he wanted me to bring, (because the song has a sample and other ingredients) so I wasn't sure if I should bring my computer, or my keyboard, and the day before we were supposed to do it, he was like "don't worry about it, we've got it covered."
He told me he just really wanted to take each element of the song and bring it to life and the stage director had the idea to put me on this little cart and push me back and forth and do the little unveiling of each person, one at a time. it was so fun. That whole team is so fun and so pro, and they're so open minded. They're into doing strange things, strange collaborations. It turned out so cool.
On recreating solo studio sounds with a live band
It's a really joyous experience to share something you created and hear it re-interpreted through someone else's mind. It's not just some robotic task that I'm forcing someone to play everything the way I want it. We try to leave a lot of room and spaces for people to let their own mind wander and let their own creativity come out. It's a really fun process.
On vivid dreams
It's kinda dark... I had a dream that i was a police officer in riot gear and there was a lady police officer also in riot gear...
You'll have to listen to the interview hear the rest of that story...
Resources
Related Stories
2 Photos
A woodcut from Gods' Man by Lynd Ward

(Lynd Ward

)

Jim James performed his solo album for fans at the Hype Hotel in Austin on March 13, 2013.

(Geoff Leung for The Current

)
View 1 more photos