Texas psych-rockers The Black Angels perform at The Current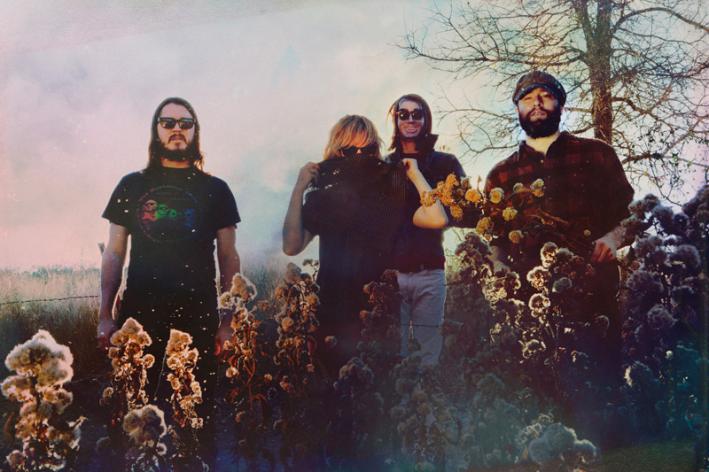 Austin's Black Angels are out with a new album, Indigo Meadow, which finds the band further honing their faithful recreation of the heaviest and most visceral strains of 1960s psychedelia. On the record, released earlier this month, the quartet harnesses fuzzed-out guitars, dissonant organ and rollicking drums to craft tunes redolent of Hendrix, the Doors, the Nuggets compilations and Piper-era Pink Floyd. It's a slight departure from the somewhat gentler and more melodic music of 2010's Phosphene Dream and the Velvet Underground-steeped noise of 2008's rawer Directions to See a Ghost.
In town for a show at the Fine Line Music Cafe, the group stopped by The Current studios to play a few songs and talk to host Bill DeVille about some very special audience members spotted at their Minneapolis show, their work running and curating the Austin Psych Fest, the affinity between their sound and artists like Ty Segall, and how the ensured the hard-rocking sound of their new record.
Songs played: "Don't Play With Guns," "The Day" and "Evil Things."
Guests
Resources
Related Stories
The Black Angels perform in The Current studio In 2005, The Black Angels released their self-titled debut EP, and the band followed it up with their full-length, "Passover," in April 2007. The band's latest offering, titled "Phosphene Dream," was released earlier this fall.
Black Angels perform in studio Formed in Austin Texas in May 2004, The Black Angels definitely have a love of all things 60s: From the trippy, Doors-like psychedelia right down to the strikingly cool, retro-style artwork.