Singer-songwriter Josh Ritter brings his compelling folk sound to The Current studio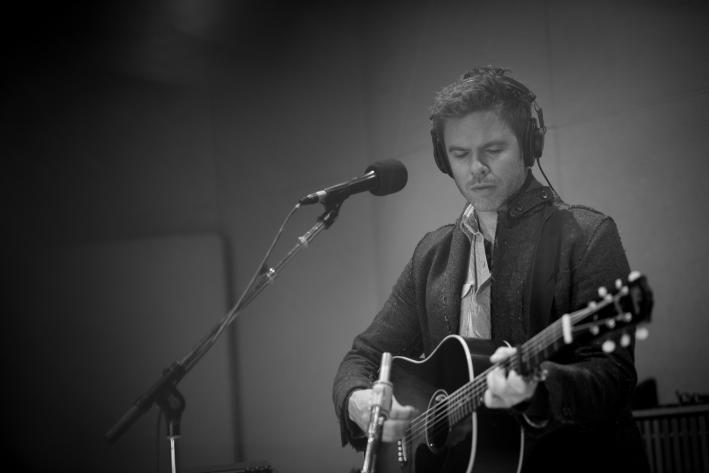 Singer-songwriter Josh Ritter is one of indie Americana's most seasoned and talented figures. His clever storytelling and gritty yet melodic vocals have earned him critical accolades and widespread appreciation on the music scene. From his early, self-released albums through his most recent output, he's consistently proven himself to be a compelling voice.
Last month, Ritter released his seventh studio full-length, The Beast in Its Tracks, on Pytheas Recordings. His spring tour brought him through the Twin Cities for a First Avenue date with Sea Wolf opening, and he stopped by The Current studio ahead of the show with his Royal City Band in tow to play a few songs.
Ritter and host Mary Lucia chatted about his intentions for the new record, the cathartic nature of sharing autobiographical songwriting with his audience, friendship with Glen Hansard of the Frames, and more.
Songs played: "Joy to You Baby" "New Lover," "Hopeful" and "Rumors (web exclusive)."
Related Stories
10 Photos
Singer-songwriter Josh Ritter in The Current studio.

(MPR / Nate Ryan

)

Upright bassist Zack Hickman of Josh Ritter's Royal City Band in The Current studio.

(MPR / Nate Ryan

)

Pianist Sam Kassirer of Josh Ritter's Royal City Band in The Current studio.

(MPR / Nate Ryan

)

Singer-songwriter Josh Ritter performs in The Current studio.

(MPR / Nate Ryan

)

Drummer Liam Hurley of Josh Ritter's Royal City Band in The Current studio.

(MPR / Nate Ryan

)

Josh Ritter performs in The Current studio.

(MPR / Nate Ryan

)

Upright bassist Zack Hickman of Josh Ritter's Royal City Band in The Current studio.

(MPR / Nate Ryan

)

Guitarist Austin Nevins of Josh Ritter's Royal City Band in The Current studio.

(MPR / Nate Ryan

)

Guitarist Austin Nevins of Josh Ritter's Royal City Band in The Current studio.

(MPR / Nate Ryan

)

Singer-songwriter Josh Ritter performs in The Current studio.

(MPR / Nate Ryan

)
View 9 more photos