The best of the in-studios: Dan Auerbach, Passion Pit and Hot Chip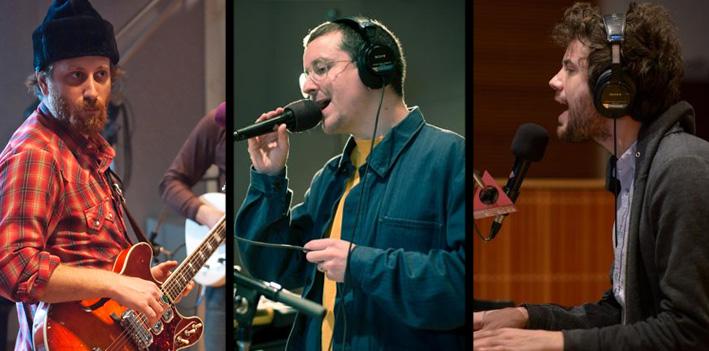 April is Public Radio Music Month, and what is more "public radio music" than the in-studio session? Stations across the nation put hours and hours of work into bringing up-and-coming artists and high-profile bands into their studios, often capturing some of the most poignant... or raucous performances out there.

So to celebrate Public Radio Music Month, we're having a daily vote for the best in-studio tracks from The Current's performance archive. We've gone through and picked some of the most beloved performances by the staff and by our audience. We'll play the winner during the Live Current track of the day the following day.

Now, let the games begin! Today's vote: Dan Auerbach, Passion Pit and Hot Chip.

"); } function create_50de92a9ed42_external_field() { } function enable_50de92a9ed42_ajax_form() { $("#fbSubmitButton").click(function() { $.ajax({ type: "POST", url: "/www_publicradio/applications/formbuilder/user/form_display.php?form_code=50de92a9ed42", data: $("#form_display_50de92a9ed42").serialize(), complete: function (transport) { //turn off the ajax loader $("#indicator_50de92a9ed42").hide(); }, beforeSend: function () { $("#indicator_50de92a9ed42").show(); }, success: function(html) { $("#resp_50de92a9ed42").html(html); $("#indicator_50de92a9ed42").hide(); create_50de92a9ed42_external_field(); enable_50de92a9ed42_ajax_form(); } }); return false; }); } create_50de92a9ed42_external_field(); enable_50de92a9ed42_ajax_form();
Related Stories
Dan Auerbach performs in The Current studio Dan Auerbach wants to make records like RZA of the Wu Tang Clan. Like RZA, Auerbach takes his influences and feeds them into music except he takes it into another direction to make his gritty, soulful blues on his new solo album "Keep it Hid."
Passion Pit performs in The Current studio Passion Pit, the indie electro-pop project of Cambridge, Mass.-based songwriter Michael Angelakos, broke through with 2009's devastatingly catchy single "The Reeling" and returned this year with a sophomore album.
Hot Chip perform in The Current studio British band Hot Chip has made a career out of exploring the collision point between heart-rending indie rock, cleverly self-aware pop and spastic, dancefloor-ready electronica.
1 Photo
Public Radio Music Month

(PRMM

)