British indie-psych/garage upstarts Palma Violets perform at The Current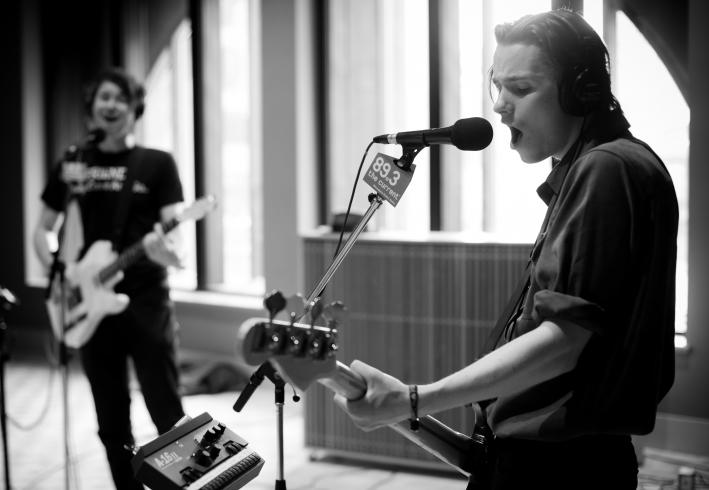 British garage-rockers the Palma Violets have been kicking up a noisy, youthful rock storm for a couple of years now, with a raw sound daubed with rich, vintage organ sounds and shaded with hints of '60s psychedelia. Formed in 2011, the London quartet first got noticed with a couple of singles last year, and released their debut full-length 180 on the iconic British indie label Rough Trade in February.
Currently on their first full headlining North American tour, the band swung through the Current studio ahead of their show at the 7th St. Entry to play a few songs and chat with host Barb Abney about their whirlwind success, choosing Rough Trade over major labels, and the dos and don'ts of being a young band (including a hilarious anecdote about the Pogues).
Songs played: "Best of Friends," "All The Garden Birds" and "We Found Love."
Guests
Resources
6 Photos
Palma Violets keyboardist Jeffrey Peter Mayhew in The Current studio.

(MPR / Nate Ryan

)

The Palma Violets perform in The Current studio.

(MPR / Nate Ryan

)

The Palma Violets perform in The Current studio.

(MPR / Nate Ryan

)

Palma Violets bassist Alexander "Chilli" Jesson in The Current studio.

(MPR / Nate Ryan

)

British indie quartet the Palma Violets perform in The Current studio.

(MPR / Nate Ryan

)

British indie quartet the Palma Violets perform in The Current studio.

(MPR / Nate Ryan

)
View 5 more photos