What is your favorite album cover of all time?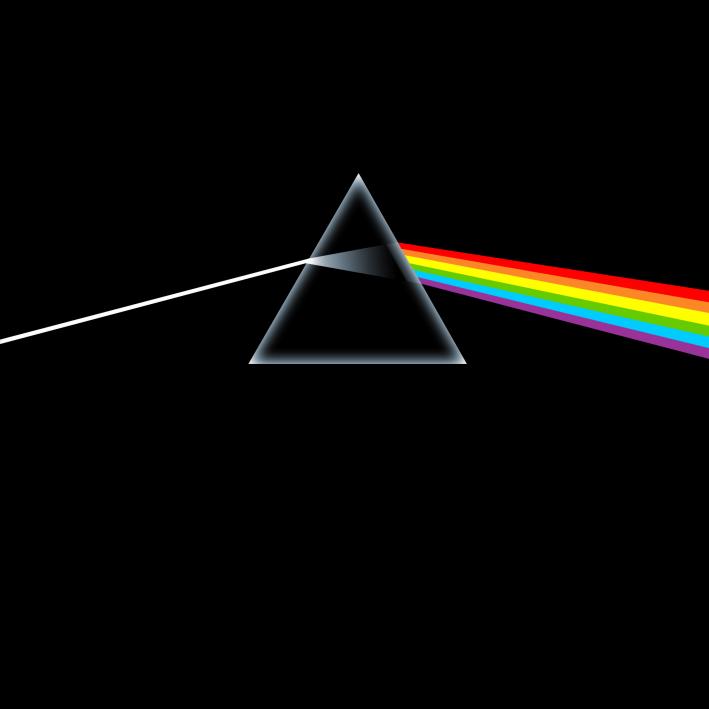 Storm Thorgerson, the artist behind countless famous album covers including Pink Floyd's iconic Dark Side of the Moon, recently passed away. When we heard the news here at The Current, we got to thinking—what are our favorite album covers? Here are some picks from several Current hosts and staffers. Peruse their choices, and let us know your faves in the comments below!
Barb Abney, Host
Christmas of 1979, my dad asked someone behind the counter at Camelot Records what a good choice for a kid's gift would be. Lucky for me, that clerk was a rocker, because he suggested KISS' Dynasty! I spent hours staring at that record cover while attempting to transform myself into Peter Criss using my mom's makeup. OMG, there's a Dynasty commercial!
Jim McGuinn, Program Director
There are so many favorites—from the obvious ones I've been staring at and fascinated with my entire life (Rubber Soul, Sgt. Pepper, Abbey Road, Meet the Beatles, Pet Sounds, Velvet Underground & Nico, Sticky Fingers), to the best of my more recent fascination with classic jazz (almost anything on Blue Note, Coltrane, Jazz Messengers, Miles, and countless others), to the iconic classic rock albums I grew tired of stocking at the mall record store I worked at in high school (Pink Floyd, Zeppelin, the Who, Sabbath), to what may be the best album cover of all time—the Clash's London Calling. But I'll deduct points for that one being too much of an homage to Elvis' first album, though to herald the arrival of a band that retained their punk energy (the smashing bass guitar) while exploring music from an expanding vista (the flawless meshing of rock/reggae/soul/jazz/rockabilly contained within), nothing comes close. Some covers remain mysterious (I stare at Big Star's Radio City and still don't get it), but the cover that made me think more than any was from one of my favorite albums by the Replacements, 1987's Pleased to Meet Me. Clearly mocking themselves and their move to a major label, the combination of the title and the image brought to mind questions of commerce and art in my young brain more and made me think beyond 'is this cool or not?' to realize you could make a bold statement with your album cover. It was years later when I realized the font and color scheme were a tribute to Elvis' G.I. Blues. "One foot in the door / the other one in the gutter."
Jacquie Fuller, Host, Teenage Kicks
Picking my favorite album cover is a near-impossible task. I just have too many favorites, from Reid Miles' inconic Blue Note covers to Peter Saville's designs for New Order, to recent favorites like Mew's delightfully weird (yet simple) And the Glass Handed Kites from 2005, or Cults' stark, sexy Robert Longo-esqe 2007 debut. But I feel like no album cover in recent years has had such an impact outside of music since Arcade Fire's 2005 debut, Funeral. All one had to do was walk into an Urban Outfitters a year later, stuffed to the rafters with black chandeliers and ruffle-collared blouses, to see the Neo-Victorian frenzy that Caroline Robert's quiet album art set into motion. I credit that album with the resurgence of damask. Seriously.
Jake Rudh, Host, Transmission
A favorite album cover of mine is Joy Division's Unknown Pleasures, designed by Peter Saville. It has become an iconic image through the years and is a popular tattoo of choice by many music fans around the globe. I dig that it is both simple and complex. The image comes from an edition of The Cambridge Encyclopedia of Astronomy, and was originally drawn with black lines on a white background. It presents successive pulses from the very first pulsar discovered and was suggested by drummer Stephen Morris. From this 1979 creation, Peter Saville went on to be one of the world's greatest designers working with many of my favorite artists including New Order, OMD, Roxy Music, Brian Eno, David Byrne, Peter Gabriel, Ultravox and Pulp. You can hear Mr. Saville explain the cover here, and be sure to check out more of Mr. Saville's work through the years
Andrea Swensson, Local Current Blogger
Ok, this is kind of a weird story, but that's also why I like it. My dad is a big Todd Rundgren fan. His favorite LP to marvel over has always been the A Wizard, A True Star release, which has psychedelic and bizarre graphic design on both the cover and the gatefold, and he especially loved pondering this weird floating sandwich that appeared inside the gatefold, hovering over Todd's head as he stared into a mirror. The rest of the image is reflected in the mirror, but not the sandwich. How could that be? What did it mean? Well, almost 30 years after the album was first released, I got the chance to take my dad to see Todd at the State Theater. We were able to meet him afterward, and my dad had only one question for him: "Can you explain the sandwich?" Todd happily did. It was one of the most surreal and satisfying experiences I've ever shared with my father, and because of that I'll treasure this crazy album artwork forever.
Matt Perkins, Marketing Manager
Green Day's Dookie one of those album covers that makes you stop what you're doing and take a moment to look at for a while. It reminds me of when I sit down and look at a map or when I get a new gadget and comb through the manual; I want to know where everything is and how everything fits together. You can look at this album cover hundreds of times and still find something new that you may not have noticed before or gotten the reference to the first time around. Billie Joe explained the artwork in an interview with VH1 once:
"I wanted the art work to look really different. I wanted it to represent the East Bay and where we come from, because there's a lot of artists in the East Bay scene that are just as important as the music. So we talked to Richie Bucher. He did a 7-inch cover for this band called Raooul that I really liked. He's also been playing in bands in the East Bay for years. There's pieces of us buried on the album cover. There's one guy with his camera up in the air taking a picture with a beard. He took pictures of bands every weekend at Gilman's. The robed character that looks like the Mona Lisa is the woman on the cover of the first Black Sabbath album. Angus Young is in there somewhere too. The graffiti reading "Twisted Dog Sisters" refers to these two girls from Berkeley. I think the guy saying "The fritter, fat boy" was a reference to a local cop."
Brett Baldwin
Since discovering it, I've always been drawn to the artwork for Husker Du's sophomore release Zen Arcade. Something about the shadowy band members in the junkyard photo over-layed with sloppy colored pencils was at once both playful and foreboding; inviting and dangerous... kinda like the album.
Mark Wheat
When I was in high school I used to see Led Zeppelin III being handed around class by all the cool hippies! I was still into Rod Stewart and T.Rex! I didn't even know what it was, but it intrigued me, it was hypnotic. When I was finally getting into Zep later on in college, I was delighted that I liked the album as much as I'd admired the cover! Its spinning wheel collage is a simple idea but effective, as you can constantly change it to be yours—but I could never quite make out what all the symbols meant.
So now that you've checked out our selections... what are your favorite album covers?
---
comments powered by

Disqus