Album Review: Vampire Weekend - Modern Vampires of the City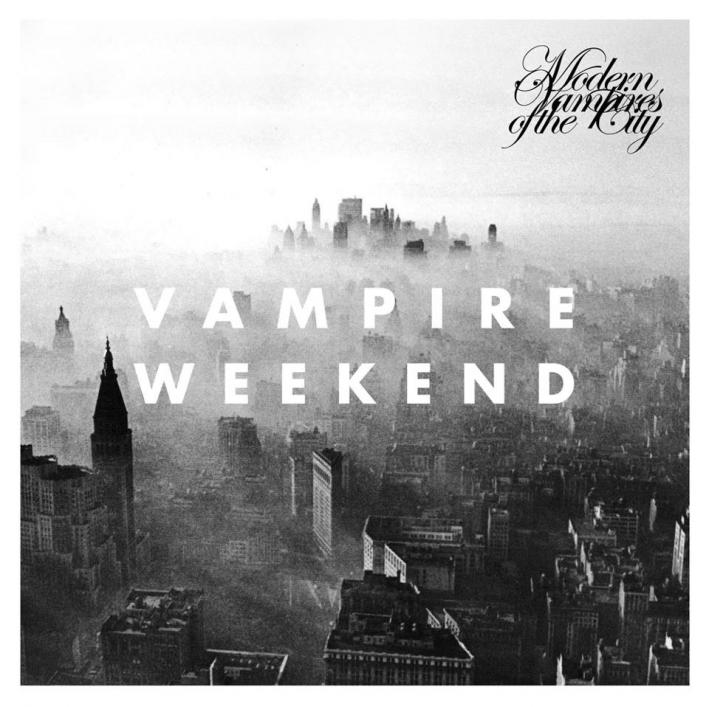 Contribute today and get Modern Vampires of the City by Vampire Weekend as a thank-you gift.
It's impossible to know where a band's career might end up based on where it begins. There may be something to the sophomore slump: you know, the old adage that you've got 20 years to write your first album and six months to come up with material for your second... but what about the Junior Jump? It might be more like the seven-year itch, in which the same old methods and relationships within a band start to feel stale. The best bands use this time to make a great leap forward, mixing up their sounds and methods to re-invent themselves, as Radiohead did with OK Computer. But the Junior Jump does not always come with great results (I'm looking at you, Strokes).
With Modern Vampires of the City, Vampire Weekend have created a cohesive record that someone feels more polished and mature and serious than anything they've done, while at the same time loose, raw, and more fun than Contra or their debut. A group you might have predicted in 2007 to be a one-trick pony destined to fade away—again, looking at you Strokes—Vampire Weekend instead may have given us the best album we'll hear this year, along with the confidence to think there will be more great ones to come.
This record is a departure. They've been called "Upper West Side Soweto" from the gumbo merging of indie rock and world music explored on their first two albums, but on Modern Vampires they reach more to their American past for inspiration—with gospel, Motown, and both Elvis Presley and Buddy Holly informing their sound in exciting ways. Lyrically the album is filled with intimations of mortality from singer Ezra Koenig, from the frenetic first single "Diane Young" (get it?) to lines like "there's a headstone right in front of you and everyone you know."
Maybe it's just a little late-20s angst, or maybe the kind of maturation the Beastie Boys went through when they realized that the semi-comic personas they had created for Licensed to Ill, like VW's rich/preppy/brainy caricatures, just wouldn't play for the long haul. But whatever the cause, by moving towards a more personal lyrical tone—instead of coming off like the kid bragging about all the places they've been—Vampire Weekend invites us in to their world, with the same mix of dreams and fears and celebrations we all encounter. It's a world filled with pounding pianos, Rockabilly guitars, synths, horns, strings, '60s harpsichords, fat bass lines, glitchy beats, and percussion varying from straight ahead indie-rock clamor to African and Asian touches.
Vampire Weekend is still "fusioning" their sound out of a huge and varied palette, but somehow it all comes together on this album like never before. With Modern Vampires of the City, Vampire Weekend not only makes the Junior Jump with ease, they join the likes of Radiohead and Arcade Fire as one of the most important bands of our time.
Resources
Related Stories