Har Mar Superstar performs in The Current studios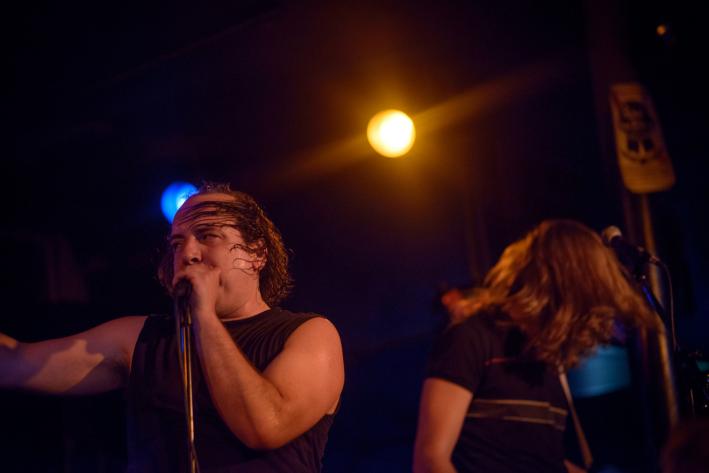 Sean Tillmann's Har Mar Superstar has long retained a rabid fanbase eager to see his on-stage schtick: stripping down to his undies accompanied by retro beats from his MiniDisc player. In the past several years, Har Mar's profile has continued to rise, especially with the support of well-regarded musicians and actors. Now he's pulling a 180 and going the funk and soul route for his best release yet.
Bye Bye 17 is an anthems album of sorts. Tillmann belts each song from his heart with full, lush arrangements emanating in all their lo-fi glory. He's also added horns and a full band to the mix — you end up wondering how long Har Mar Superstar has been stewing on this new direction.
Songs performed: "Lady, You Shot Me," "Everywhere I'm Local" and "Restless Leg"
Guests
Resources
Related Stories
First Listen: Har Mar Superstar - Bye Bye 17 Har Mar, who we know off stage as Owatonna, Minn. native Sean Tillmann, has long been regarded as a shrewd composer with an ear for pop melodies. Yet throughout his career, he has made a point of separating out his "serious" songwriting and publishing it under aliases like Sean Na Na, while devoting his Har Mar stage name to a much baudier, more flamboyant performance style. For the first time, Bye Bye 17 finds Har Mar merging all sides of his persona into one unified front.
Har Mar Superstar performs in The Current studioss Owatonna, Minn. isn't nationally recognized for a lot of things, but it can be proud of its most famous native son - Sean Tillman, a.k.a. Har Mar Superstar. After stints in the noise band Calvin Krime and his own Sean Na Na project, Har Mar's exploration of R&B and raw sexuality has found him international fame.