'Greatest Living Creature' John Grant performs live in The Current studios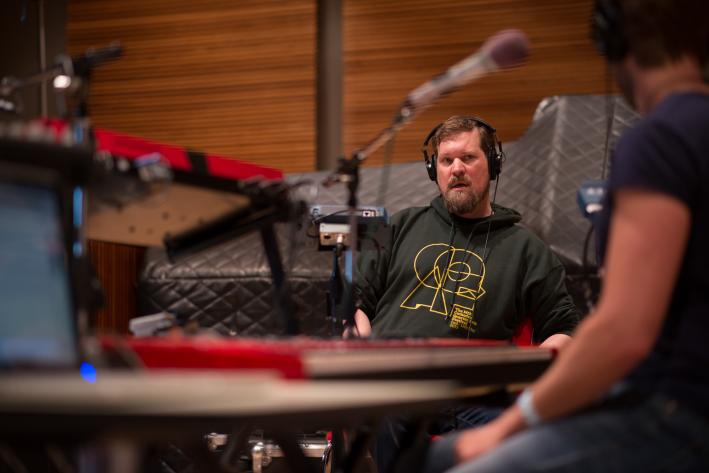 After putting out six records with Denver-based band The Czars, John Grant released his debut solo album Queen of Denmark, played the Iceland Airwaves Festival, and decided to jump on the opportunity to extend his stay. Even in his short time calling Iceland home, he appears to have picked up the language quite quickly.
The self-proclaimed "GMF" (or "Greatest Living Creature" for FCC-approved radio purposes) recites his band members' names (including Birgir Thorarinsson of the experimental electronic group Gus Gus) as if he were a native speaker. It's a steep learning curve, but he enjoys the cultural challenge. "It makes me a better American," says Grant.
And a great love lost makes him a better person, too. Recently diagnosed as HIV positive, John was forced to reevaluate his life. He changed his attitude toward sex, got sober, and began the most important relationship of his life to date. The second track Grant performed, "It Doesn't Matter To Him", is about the end of that romantic relationship. He's been told that addicts misunderstand intensity for intimacy, but regardless of how much truth that holds, he believes in the love that he had and is now "living like there's a future."
Songs performed: "Vietnam", "It Doesn't Matter To Him", and "GMF (Greatest Living Creature)".
Resources
Related Stories
First Listen: John Grant - Pale Green Ghosts John Grant's sophomore solo effort Pale Green Ghosts finds the singer using his considerable lyrical prowess to map conventional indie singer-songwriter tropes—intricate retellings of heartbreak and existential struggle—onto a landscape of throbbing electro-pop.
Artists who rock with pride As the 88th Minnesota State legislature takes up the issue of same-sex marriage, we're building a playlist with artists who rock with pride -- help us out by making a suggestion or two.
5 Photos
John Grant in The Current studios

(MPR / Nate Ryan

)

John Grant in The Current studios

(MPR / Nate Ryan

)

John Grant and his band perform in The Current studios.

(MPR / Nate Ryan

)

John Grant in The Current studios

(MPR / Nate Ryan

)

John Grant and his band in The Current studios

(MPR / Nate Ryan

)
View 4 more photos