Mayer Hawthorne brings his revamped soul sound to The Current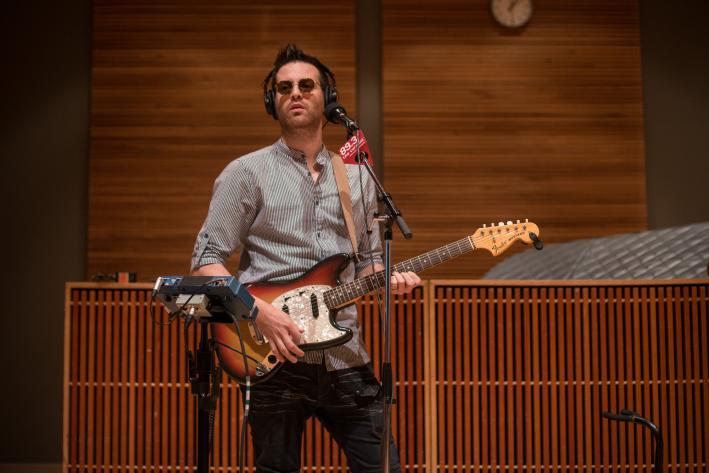 Mayer Hawthorne knows one of the keys to show business is to always leave the audience wanting more. After his all-too brief Steely Dan-infused Theft of the Dial, we were left hanging. But that was just a week ago, and he's already bounced around the midwest for a few days, and come back for a full in-studio session.
Teasing — and then delivering — is the modus operandi of Mr. Hawthorne. He and his band The County tour relentlessly, as evidenced by two Minnesota stops in July. (They logged 200-plus shows last year.) But it doesn't stop with touring; Hawthorne purposefully plays with genre and is boastful of how hard his latest album, Where Does This Door Go? is to classify.
"My favorite thing about [the record] is that I can't find anyone who can tell me what genre this is," said Hawthorne.
With a rotating cast of producers, he took an improvisational approach to making Where Does This Door Go.
"I would literally walk in the studio... and it was like 'Nice to meet you, let's write a song together.'" He explained that you can't just do that with just anyone. Hawthorne was intentional about who he worked with. He started with about 40 producers before he narrowed it down to the five he worked with. He landed on a spectrum of producers who were pioneering the sound he was after, including Kendrick Lamar and Pharrell Williams.
Mayer Hawthorne also spoke with Mary about the flip-side of the work and spontaneity: his connections to his bandmates (they vetoed his move to San Francisco) and family (his father, Richard, plays in a band in Ann Arbor, Michigan and is the titular character in "Reach Out Richard."
Songs played: "Her Favorite Song," "The Stars Are Ours" and "Reach Out Richard."
Guests
Related Stories
Theft of the Dial: Mayer Hawthorne Mayer Hawthorne stopped by The Current studios for a Theft of the Dial with Barb Abney. They talked about his new record Where Does This Door Go, including what one rule he set for himself during the recording process and what artists collaborated with him for the album.
Album Review: Mayer Hawthorne - 'Where Does This Door Go' Mayer Hawthorne is known for delivering Motown and even Barry White influenced vintage R&B, but his 5th studio album Where Does This Door Go is a little different. He seems to have ditched the retro-soul influenced sound in favor of something a little more modern.
The Current Presents: Mayer Hawthorne at First Ave On May 18, 2012, indie soul singer and producer Mayer Hawthorne stopped by First Avenue in Minneapolis for a show, and The Current has the full audio for your listening pleasure.
9 Photos
Mayer Hawthorne

(MPR Photo / Nate Ryan

)

Quentin Joseph, drummer for Mayer Hawthorne and the County

(MPR Photo / Nate Ryan

)

Joe Abrams on bass

(MPR Photo / Nate Ryan

)

Mayer Hawthorne

(MPR Photo / Nate Ryan

)

Keyboards/vocals by Quincy McCrary

(MPR Photo / Nate Ryan

)

Mayer Hawthorne

(MPR Photo / Nate Ryan

)

Christian Wunderlich

(MPR Photo / Nate Ryan

)

Mayer Hawthorne

(MPR Photo / Nate Ryan

)

Mayer Hawthorne from the booth

(MPR Photo / Nate Ryan

)
View 8 more photos