Savages storm The Current studio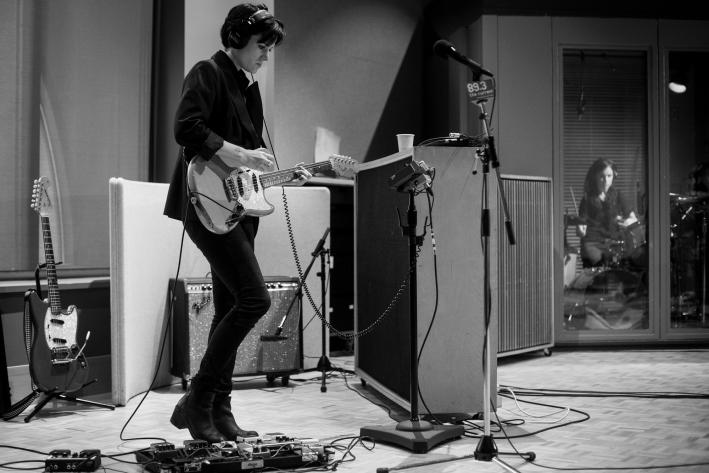 Between their much-buzzed-about set at the Pitchfork Music Festival on Saturday and their sold-out show at the Triple Rock Social Club last night, excitement over Savages is at an all time high. And for good reason: The London quartet bring a rare intensity and seriousness to their live shows, and their muscular precision has a magnetic effect.
The band stopped by the Current studios this morning to perform three songs off of their much-lauded debut, Silence Yourself, and chat with host Mark Wheat about their recent popularity in the U.S. The interview took an insightful turn, too, as the band discussed everything from choreography to an artist's ability to influence culture with Wheat. And fans will be happy to learn that Savages are just as fierce performing in the morning at a studio as they are inside a dark, packed club.
Savages return to Minneapolis on Tuesday, September 17, to play First Avenue.
Songs Played: "City's Full," "She Will," and "Husbands".
Guests
Related Stories
Savages - She Will Savages - She Will, from the new album "Silence Yourself."
Album Review: Savages Leading up to the release of Savages' debut "Silence Yourself," the London quartet posted a simple philosophy online: their intention was to "create a sound -- indestructible -- musically solid, written for the stage and designed with enough nuances to provide a wide range of emotions."
8 Photos
Savages' lead singer Jehnny Beth

(MPR Photo / Nate Ryan

)

Ayse Hassan, Savages' bassist

(MPR Photo / Nate Ryan

)

Gemma Thompson of Savages playing guitar.

(MPR Photo / Nate Ryan

)

Gemma Thompson

(MPR Photo / Nate Ryan

)

Drummer Fay Milton

(MPR Photo / Nate Ryan

)

Ayse Hassan on bass

(MPR Photo / Nate Ryan

)

Jehnny Beth and Ayse Hassan of Savages

(MPR Photo / Nate Ryan

)

Gemma Thompson's gear

(MPR Photo / Nate Ryan

)
View 7 more photos