Tonal Recall: 90's Movie Sountrack Edition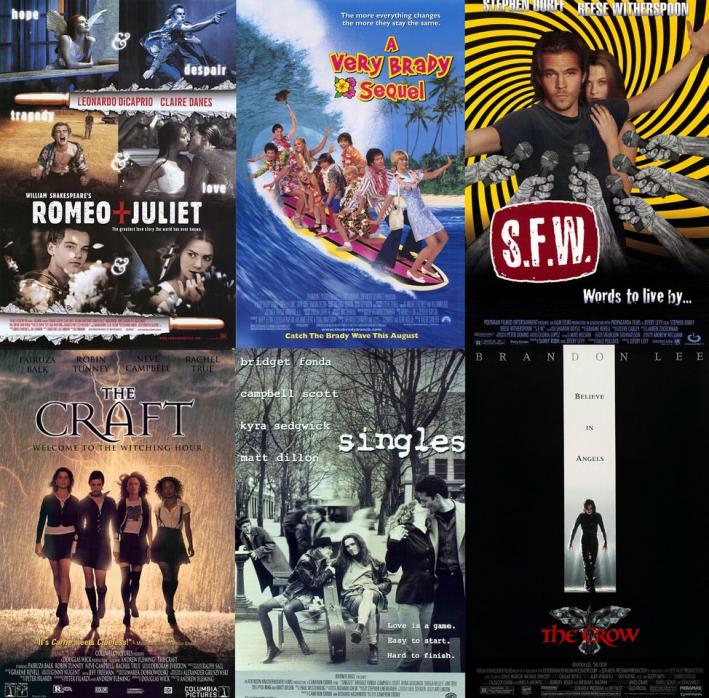 After some recent discussion on Twitter, it seems that it is high time for another soundtrack episode of Tonal Recall!
This time, let's put the focus on movies from the 90s. We've already received requests from the movies pictured above, but we want to play your request, as well.
As a special surprise, former REV105 personalities Kevin Cole and Shawn Stewart stopped by The Current studios during Tonal Recall. Hear their joint break by clicking the audio link (above).
Cole is now the Program Director over at KEXP radio in Seattle. Shawn Stewart is the host of It's Raining Cats & Dogs on KIRO FM.
Playlist
Urge Overkill - "Girl, You'll Be a Woman Soon" from Pulp Fiction
Garbage - "#1 Crush" from Romeo + Juliet
Portishead - "Glory Box" from The Craft
Pavement - "Cut Your Hair" from A Very Brady Sequel
Concrete Blonde - "Everybody Knows" from Pump Up the Volume
Paul Westerberg - "Dyslexic Heart" from Singles
Ned's Atomic Dustbin - "Saturday Night" from So, I Married An Axe Murderer
The Primitives - "Crash" from Dumb and Dumber
Crash Test Dummies - "The Ballad of Peter Pumpkinhead" from Dumb and Dumber
The Cardigans - "Lovefool" from Romeo + Juliet
Sponge - "Plowed" from Empire Records
Monster Magnet - "Negasonic Teenage Warhead" from S.F.W.
Black Flag - "Rise Above" from Romeo + Juliet
1 Photo
(L to R) Andrea Swensson, Jim McGuinn, Jon Schober, Derrick Stevens, Kevin Cole, Shawn Stewart, Barb Abney and Lindsay Kimball

(MPR Photo / Brett Baldwin

)
---
comments powered by

Disqus