Smith Westerns perform live in The Current's studios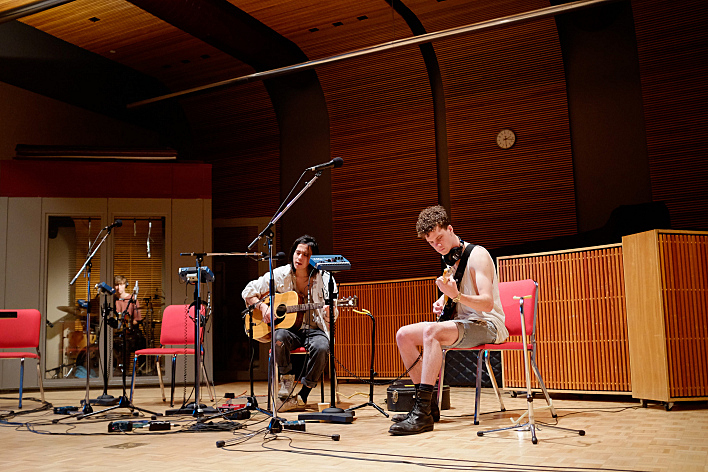 Some bands report experiencing a creative slump while touring; not so for Chicago's Smith Westerns. Front man Cullen Omori describes the 140 days the band spent on tour in support of its previous album, Dye It Blonde, as productive — ultimately nurturing the band's latest release, Soft Will.
Before playing a show at the Varsity Theater in Minneapolis, Smith Westerns stopped in to the studios of The Current to talk to Barb Abney about touring, songwriting, their influences and what it's like to be a band out of Chicago.
Despite the immensity of the Chicagoland area, its music scene has historically paled in comparison to that found in the Twin Cities. Omori discusses the changing Chicago music scene; particularly, how over the past four years, he's seen it transform from a place populated by a few massive bands — Wilco, Smashing Pumpkins, Andrew Bird — but little else, to a place where what he calls "intermediate" bands can find a scene and flourish. Four years ago, Omori notes, label reps didn't even bother travelling to Chicago to check out a band; nowadays, he says, they do.
Smith Westerns also reflect on how strange it is to be considered the elder statesmen of the burgeoning Chicago music scene at the ripe old age of 23.
Songs Performed
"Best Friend"
"3 A.M. Spiritual"
"Varsity"
Resources
Related Stories
Smith Westerns - Varsity Smith Westerns - Varsity, from the new album "Soft Will."
Smith Westerns live from SXSW In their second year at SXSW, Smith Westerns return to play a set of jangly pop peppered with new songs from their album "Dye it Blonde." They played March 16 at Stubb's in Austin Texas.
Smith Westerns perform live in The Current studio Formed in high school, The Smith Westerns are a four-some from Chicago that have been touring the country and wowing audiences. Their buzz began in 2009 with their self-titled first record. Inspired by garage rock, their follow up "Dye It Blonde" was released this year.
3 Photos
Max Omori and Max Kakacek of Smith Westerns.

(MPR photo/Nate Ryan

)

Smith Westerns performing in the Maud Moon Weyerhaeuser Studio at Minnesota Public Radio.

(MPR photo/Nate Ryan

)

Smith Westerns are (L to R) Julien Ehrlich, Cullen Omori and Max Kakacek.

(MPR photo/Nate Ryan

)
View 2 more photos