The Current's Guitar Collection: Laura Marling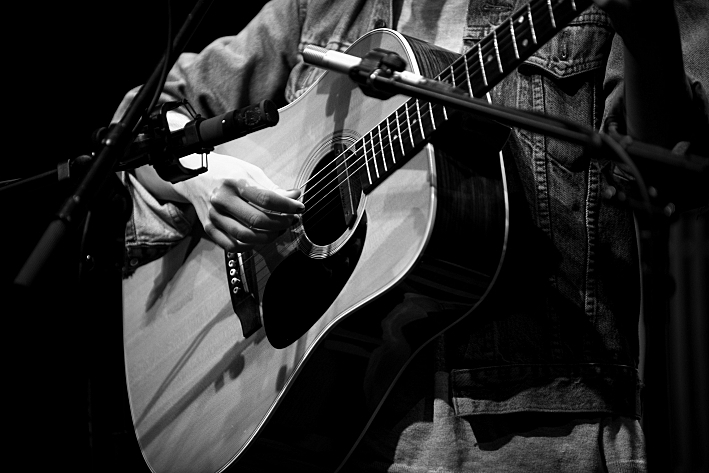 When Laura Marling stopped by Minnesota Public Radio to play an intimate show in the UBS Forum, we asked her about her guitar(s). Here's what she had to say:
Leah Garaas: What kind of guitar do you have?
Laura Marling: Well, obviously I'm a touring musician — I have lots of guitars, and today you've caught me on a day where I have lost one of them to American Airlines, but luckily in my years of touring now, I learnt not to take my precious guitars on the road. I tour with Mason guitars but they're built to be bashed around. They're new ones, you know, so they don't have a character yet. So the one I lost was a really brilliant — I'll get it back but — it was a really brilliant Guild Dreadnought, and the one I've got with me now is a Martin D-45 or something, a Dreadnought. And I've got a couple of those, which makes me sound very privileged, but I have a touring collection of guitars. My precious one that I don't take anywhere — in fact I've moved to Los Angeles and I refuse to take it with me on the plane so it's still in London — is a Martin M-38 from the '80s, the year that they were — they stopped allowing guitars to be made in Brazilian rosewood, so it's the last Brazilian rosewood guitar.
Would you consider that Brazilian rosewood guitar your favorite?
That's my favorite for sure. And then I've got my dad's Gibson 335 which is an electric hollow body from the '60s. It is a beautiful guitar.
Are all of your guitars acoustic?
My precious one — the precious one I left in London — that's acoustic, and I don't have a pickup in it so I don't play it live. And then these two sort of working ones.
For the road.
For the road. [laughs] They've been bashed and beaten and had holes put in them and microphones and things like that.
You said the Gibson 335 was from your dad, where did you get the Brazilian rosewood guitar?
Actually Ethan, my producer, when I first went into the studio with him when I was like 18, he sort of very gently took me to one side and said, "You need, you need a proper guitar." So he took me to his local guitar shop which is called Vintage & Rare in Bath, England, and picked that one out for me — and I think was quite jealous that I ended up getting it. He wanted it.
Did you try out any other guitars at the shop, or was this the first one you played and fell in love with?
I think I was trying out much less expensive ones and then Ethan pointed out this one which was in like a glass case in the back of the store [laughs] but it was about time I had a decent guitar.
You have many, so which of your guitars is your favorite to actually play?
Actually my favorite guitar to play is not mine. But I hope that it will be. My dad has a Yamaha from '66 which was his first acoustic guitar, so he's had it for, you know, 40, 50 years, and he's done loads of stuff to it so it's really customized to the way that he plays, which is by proxy the way that I play because he taught me. It's the guitar I learnt on, and it's beautiful. And it was made — interesting fact about it — it was made the year Yamaha started making guitars, which was in the late '60s. They started making guitars out of the wood they recycled from their old pianos, so post-war pianos. It has a really weird sound. Nothing like I've ever heard before. It's very thin wood.
Any other anecdotes that you'd like to share?
I've been giving away quite how large my collection of guitars is, which I'm very lucky to have. But I've got a couple of classicals that — I collect really beautiful classical guitars that I don't play. And I've got a couple from eBay that people — it sounds mean actually! [laughs] — that people have had and found in their closets or whatever and they're worth a lot of money and they put them on eBay for nothing. So I have a couple of those that haven't been touched since the '40s. I have a guitar that I stole from an ex-boyfriend that I didn't realize how good it was and turned out to be amazing, which I'm too embarrassed to give back. And then I've got my original nylon guitar that my dad gave me when I was five years old — it's really cute. So one day I'll set up a guitar museum.
Wow! So how many do you own, total?
I've got a lot. I don't collect many things but guitars. I seemed to have collected a lot.
But if it's what you do...
It is my job. I feel like it's okay.
Watch for more additions to The Current's Guitar Collection each week.
Related Stories
The Current's Guitar Collection: Jake Bugg The Current's Guitar Collection is a look at some of the instruments that have been played in The Current's studios. Many times, there's a good story behind a guitar, often known only to the person who plays it.
Laura Marling performs an intimate show in the UBS Forum Ahead of her first US tour date in support of Once I Was an Eagle at the Women's Club in Minneapolis, Laura Marling stopped by to play songs off her latest album in Minnesota Public Radio's UBS Forum. Between songs, Marling talked to Steve Seel of The Current's Morning Show about Patty Smith, Greek mythology, and playing with an orchestra at the BBC Proms.
Laura Marling - Where Can I Go Laura Marling - Where Can I Go, from the new album "Once I Was An Eagle."