Desaparecidos perform in The Current's studios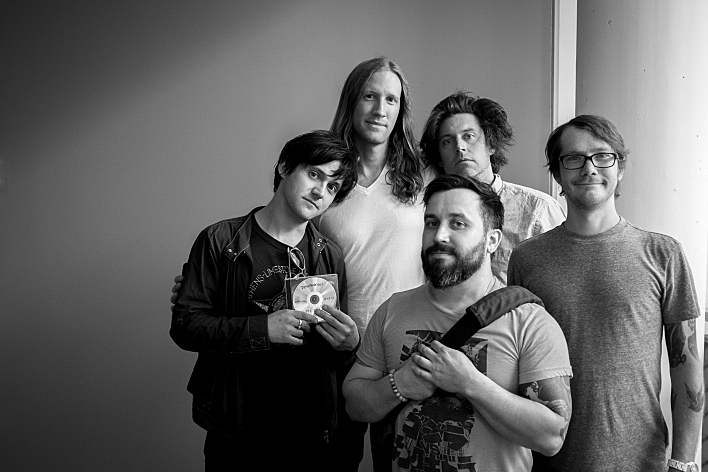 Desaparecidos — the name means "the disappeared ones" in Spanish — did exactly that not long after their 2002 album, Read Albums/Speak Spanish.
After reuniting for a concert in Omaha, Neb., in 2010, Desaparecidos began writing new material together. After releasing a handful of singles, Desaparecidos are touring once more and stopped in to The Current's studios to talk to Bill DeVille.
The band members — Conor Oberst, Ian McElroy, Landon Hedges, Matt Baum and Denver Dalley — spoke about their experience getting together for a working vacation in Battle Lake, Minn., where they wrote and rehearsed a number of new songs. They talked about the fun of summer on a Minnesota lake, and the friendliness of the local people.
Beyond their Minnesota experience, Desaparecidos discussed the Omaha music scene and shared their thoughts about the viability of vinyl in the 2010s.
Songs Performed
"The Underground Man"
"Marikkkopa"
"Mall of America"
Resources
Related Stories
Conor Oberst performs in The Current studio To get you in the mood for what will surely be a special evening, Conor Oberst stopped by The Current studios on the afternoon before his Fitzgerald Theater performance squeeze in a few bonus songs omitted from his set tonight.
10 Photos
Conor Oberst of Desaparecidos performs in studio at The Current.

(MPR photo/Nate Ryan

)

Desaparecidos perform in studio at The Current.

(MPR photo/Nate Ryan

)

Desaparecidos perform in studio at The Current.

(MPR photo/Nate Ryan

)

Ian McElroy and Denver Dalley of Desaparecidos perform in studio at The Current.

(MPR photo/Nate Ryan

)

Desaparecidos perform in studio at The Current.

(MPR photo/Nate Ryan

)

Ian McElroy and Denver Dalley of Desaparecidos perform in studio at The Current.

(MPR photo/Nate Ryan

)

Desaparecidos perform in studio at The Current.

(MPR photo/Nate Ryan

)

Drummer Matt Baum of Desaparecidos.

(MPR photo/Nate Ryan

)

Desaparecidos perform in studio at The Current.

(MPR photo/Nate Ryan

)

Denver Dalley of Desaparecidos

(MPR photo/Nate Ryan

)
View 9 more photos