Album Review: Neko Case, 'The Worse Things Get, The Harder I Fight, The Harder I Fight, The More I Love You'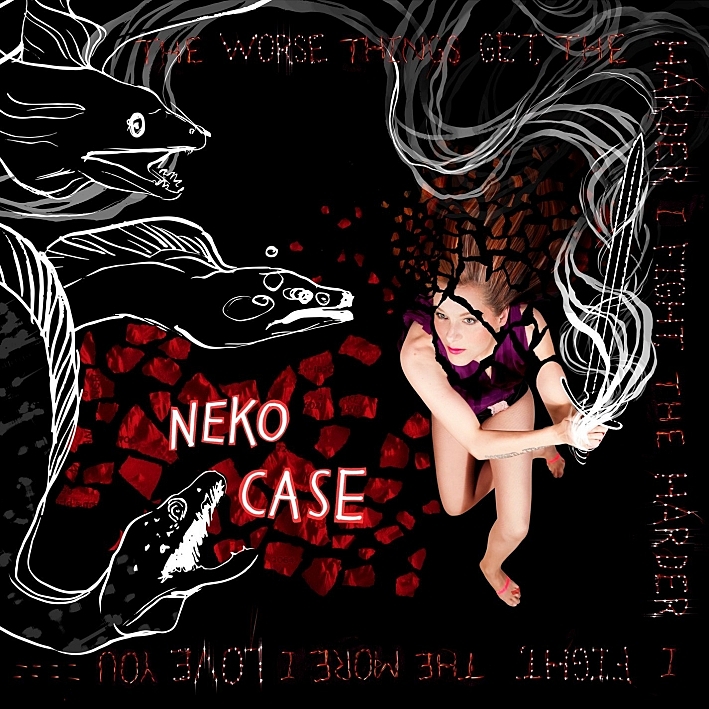 Neko Case has taken the voice of everything from animals to tornadoes in her songs. On her new album, the ambitiously titled The Worse Things Get, The Harder I Fight, The Harder I Fight, The More I Love You, you get the sense that, for a change, she just might be singing in the voice of Neko Case.
In the course of a five-year span, Case lost her grandmother and both of her parents. She describes the period (beginning just before she released her previous album, 2009's Middle Cyclone) as being fraught with depression brought on by a profound sense of grief — grief that, at first, she tried to muscle through like the rugged frontierswoman she typically is, but ultimately, she wasn't able to outrun. "If I had it my way, I would not have written about it at all," she says, describing the personal struggle that found its way into the lyrics of the new album. "I don't like to write about myself, but it's really all I could do at the time."
The result is an album that potentially packs a greater punch than a lot of the music Case has produced to this point. While she's always been an extremely sophisticated lyricist, composer and arranger, her reluctance to put herself in her songs — as opposed to "characters" — for me has always maintained a thin layer of distance to her music which is now largely removed. Again, a thin layer — when Case sung in the voice of a tornado as metaphor for a spurned lover in "This Tornado Loves You" from Middle Cyclone and declared, "What will make you believe me?", I nearly buckled at the knees every time from the poetry of the image. Now, however, the immediacy of the lyrics are even more piercing — and in a song like "Where Did I Leave That Fire" (a depiction of the crippling nature of depression), the fact that the "I" is clearly Case herself makes for just about as direct and powerful a picture of grief that you're likely to hear.
I suppose a disclaimer is in order before I proceed any further: This is hardly a depressing album. I'm not sure Neko Case would be able to produce one, in fact; even when she was telling the otherwise miserable tale of a caged tiger in her 2004 song "The Tigers Have Spoken," her melody and vocals soared, the arrangement glided along. Case's pop bona-fides are well established, having spent a significant slice of her career performing and writing as part of Carl Newman's Canadian power-pop juggernaut The New Pornographers. Like with all of her music, The Worse Things Get is simply too interesting, and Case's voice too beautiful, to get bogged down in sonic sludge. Songs like "Night Still Comes" is leaden with dark sentiment (possibly directed at the parents Case says she had a terrible relationship with), and yet the chorus of "you never held me at the right angle" levitates right off the muddy ground, unspooling with background vocals and modulating chords that will send sugary shivers down your spine. The single "Man" is somehow simultaneously defiant, bitter, and hilarious, not to mention a rollickingly rip-roaring tune. After the winsome country-tinged "I'm From Nowhere," we get a song cut straight from the New Pornographers' playbook in "Bracing For Sunday," with its shuffling snare and boppy saxophone bursts. "City Swan" is similarly breezy. Were we supposed to be depressed? Oh, I forgot.
Yes, the journeys into darkness on The Worse Things Get are plenty heavy when you listen closely — "Afraid" and the opener "Wild Creatures" depict a woman cut off from connection, doing her best to go it alone — but the overall and lingering effect of the album is one of catharsis, not desperation. The aforementioned "Where Did I Leave That Fire" hints at a turning point, perhaps a return from the brink (placed, interestingly, almost at the very end of the record), and even punctuated with a bit of mordant humor, as Case sings of discovering that she will be afforded the chance to reclaim her lost spark simply by producing "proper ID."
Resources
Related Stories